Reading Time:
7
minutes
For as long as I can remember, the audiophile world has been awash with uninspired, shoebox-like speakers with IKEA-grade finishes, especially for those on a budget. Orb Audio, a self-described affordable luxury speaker brand, set out to change the notion that one must choose either appearance or sound quality when searching for a sub-$1,000 setup. For 20 years, the company has specialized in making handcrafted, spherical, modular, small-format audiophile speakers that might just have the highest WAF (wife approval factor) of any small speaker on the market today.
Not only do the Orb Audio speakers look beautiful, but they play louder and sound more defined than any similarly priced soundbar or home-theater-in-a-box—a true feat of engineering and design, considering their tiny footprint and material makeup. They beg to be compared to larger, more high-performance audiophile speakers in their price range and maybe a little above.
For this review I tested both the Orb Mod1 and Mod2 speakers (buy at Amazon,) but I will focus here on the Mod2 stereo configuration. Each Mod2 speaker consists of a pair of vertically stacked Mod1s connected by a metal stand.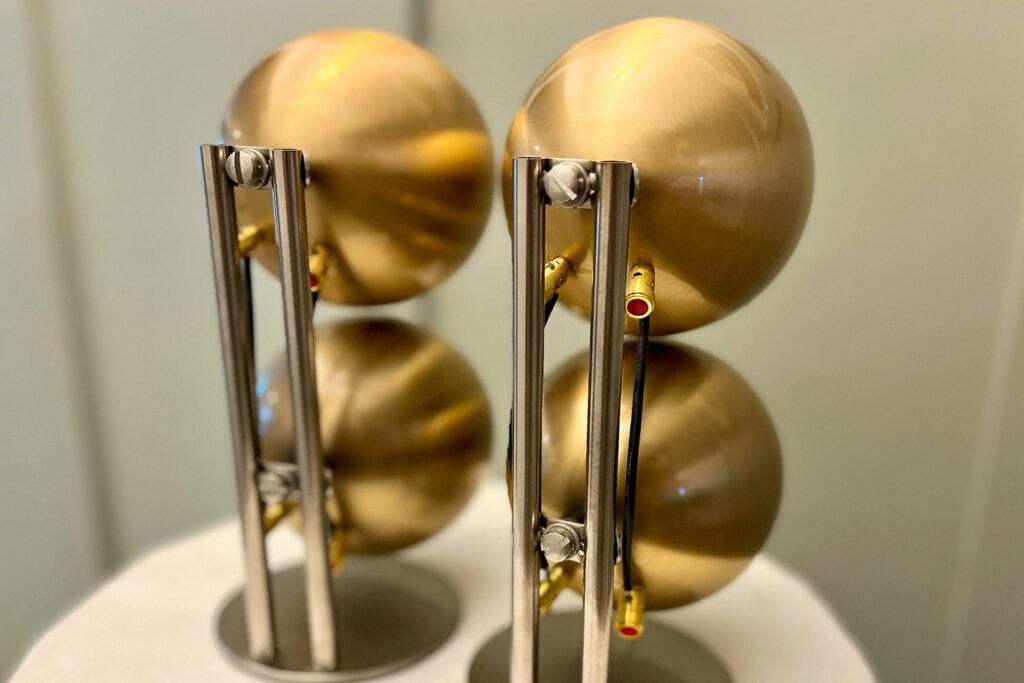 What Makes the Orb Audio Mod2 Loudspeakers Special?
The Mod2 offers a unique combination of conversation-starter looks and audiophile-quality sound. The speaker features a three-inch, fully enclosed, custom aluminum/magnesium driver and voice coil capable of a frequency range of 120 Hz to 18 kHz, with an impedance rating of 4 ohms. The single-driver design reduces interference and allows the Mod2s to produce loud, detailed, musical sound with minimal effort. This means you can drive these little beasts with even the most modest of power sources.
Orb Audio speakers are affordable by today's standards and have not gone up in price, even through COVID. Two Orb Audio Mod2s paired with a good-quality, musically capable subwoofer and a stereo receiver or integrated amp is possible for $1,000 or less.
Orb speakers come in several unique finishes to suit any taste. Orb offers six options, including traditional black and white. I opted for the stunning Hand Antiqued Bronze, which blended seamlessly with my decor and drew positive remarks from my live-in interior decorator. The company also offers custom colors to match any paint color and can do other metal finishes. Orb Audio has even been known to work with well-known artists to render some really creative stuff.
Orb Audio speakers are easily mountable and movable. I experimented with various placements and thoroughly enjoyed the flexibility that their small footprint allowed. The small form allows them to work in a nearfield desktop setup better than most audiophile speakers.
Orb Audio speakers use some parts made in China, but are assembled in California.
Why Should You Care About the Orb Mod2 Loudspeakers as an Audiophile?
Ordering, setting up, and auditioning Orb Audio loudspeakers is a unique and enjoyable experience from start to finish. The online retailer offers a generous 45-day satisfaction guarantee, as well as some of the best customer service in the audio industry. Unsure which or how many speakers to purchase for your space? Have a question about speaker wire? Want to mount your Mod2s on the ceiling? Call or e-mail the company directly, and a real human being will happily guide you through the process without judgment. They seem to love customer service.
The all-metal speakers are quite tiny. Each orb measures 4 3/16 inches in diameter and weighs 14 ounces. That's about the size of a softball (more specifically, a 12-inch ball, not the finger-busting 16-inch variety my fellow Chicagoans are accustomed to). This allows you to place the Mod2s virtually anywhere the listener (or listener's spouse/interior designer) desires.
Some Things You Might Not Like About the Orb Audio Mod2s
The Orb Audio Mod2s require a subwoofer for a complete listening experience. The Mod2s excel in the upper-mid and high-frequency ranges and offer clarity, soundstaging, imaging, and volume rivaling much larger and more expensive speakers. However, due to physics, they just can't handle much below 150 Hz.
You may experience some mild off-axis loss of detail, depending on your listening position. When I moved around the room, I noticed that the Mod2s suffered from some off-axis dropoff, most noticeably in the high-frequency ranges (cymbals, strings, etc). But in my primary seating position, about eight feet away and centered in between the two speakers, I had no complaints.
The rear binding posts can be a bit finicky. While high-quality in construction, the spring-style binding posts struggle to accommodate thicker-gauge speaker wire, in addition to the required jumper wires that allow the two Mod speakers to work as a pair. I found that 16-gauge wire worked great, but for some people, this may not be desirable.
The speaker's spherical design might not be for everyone. Beauty is subjective; traditional speaker enthusiasts/purists may prefer a more traditional-looking speaker.
Listening to the Orb Mod2 Loudspeakers…
I powered my Orb Audio speakers with an older but respectable Yamaha RX-V473 receiver and paired them with my semi-vintage Sunfire SDS8 subwoofer. I set the low-frequency crossover to 150 Hz per Orb's stated recommendations. All music was streamed wirelessly over AirPlay via Amazon Music HD/Ultra HD.
Hoping to highlight the dynamic range and imaging capabilities of the Mod2s, I chose SYML's "Howling (ft. Lucius)" (Amazon Music Ultra HD, 24-bit) as my first test track. I was instantly impressed with the clarity and depth of Brian Fennell's falsetto. It never wavered or cracked under pressure even as I cranked the volume in anticipation of the first chorus. The Orbs chugged along admirably, with little to no distortion and minimal ear fatigue. The Mod2s truly shined during the quieter moments of this track, providing a sense of space and emotion that shouldn't be possible given their diminutive size.
When I switched off the subwoofer, there was an almost complete loss of low-end presence, as I expected. But the Mod2s continued to provide a pleasant, neutral presentation of this emotional roller coaster of a track while still maintaining adequate depth in the midrange. I cranked the sub back up for the finale, and the system handled the choral climax with ease, leaving me with no other choice but to repeat the track several times over.
For my next test, I wanted to explore the system's ability to reproduce the richness and texture of Lizzy McAlpine's vocals on "No Surprises" (Amazon Music Ultra HD, 24-bit) (buy at Amazon). I guess indie-folk Radiohead covers are a thing now, but I don't mind when they sound like this. Her tone is pure butter, and her voice resides front and center in this beautiful tribute to a classic. Very few female artists can sing at a whisper and still maintain such masterful dynamic control—and this nuance can be difficult to discern when listening late at night through noise-canceling headphones. Remarkably, the Orb speakers captured this quality consistently throughout the song. I was often able to close my eyes and pick out the rich details, from the snappy guitar plucks and strums to the background resonance of acoustic bass. Perhaps the simplicity of the Mod2 design, with no crossover or complex internals, allows quiet to be king (or queen, in this case).
Quiet reflection on the nature of life and all its sadness is great and all, but even at the ripe old age of 37, I still get the occasional urge to blow the roof off. I decided to put the Orb system to the test and unleashed Mastodon's "Blood and Thunder" (Amazon Music Ultra HD, 24-bit) (buy at Amazon). Here, the Orbs struggled occasionally at high volumes, as most speakers would, but overall they genuinely impressed me as they popped through every snare run with precision. Brent Hinds' guitar solo oozed with metal and sweat. I was transported back in time to the first-ever Pitchfork musical festival in 2006, where Mastodon shook Chicago's Union Park to its core and rattled the Near West Side's chainlink fences for miles.
As I did with the other test tracks, I switched the subwoofer off intermittently to focus on the Mod2s' performance, which revealed a clean, neutral, but admittedly shallow listening experience. At quieter volumes or on a desktop, the Mod 2s alone would be more than adequate, but to unleash their full potential, a decent subwoofer is certainly a must. Orb Audio acknowledges this and offers several subwoofers with which to pair your Mod speakers, including the Sub Mini.
Do the Orb Audio Mod2 Speakers Have Good Resale Value?
The Mod2s rarely make it to the resale market because there are so many ways to reconfigure and re-use these small speakers when you choose to upgrade your audiophile system. They can be paired with a small TV or used in a nearfield computer installation or other non-audiophile application.
Orb Audio has over 2,000 five-star reviews, and when each Orb do sell on eBay.com or the like, they tend to do very well. I doubt you will ever sell them, but you should get a good percentage of your money back if you do. They are also easy to ship because of size and weight, which helps with value too.
What Is the Competition for the Orb Audio Mod2 Speakers?
While I consider the Mod2 speakers to be in a class of their own for many reasons, there are a few competitors. Similarly compact speakers include the Gallo Acoustics Micro ($235) (buy at Amazon) and the Focal Dôme Flax ($689) (buy at Amazon). These selections certainly have their merits, but they are pricier and cannot match the modular configurability of the Orb speakers.
Outside of physically round speakers, you might compare them to the Polk Audio R200s (buy at Amazon), which are far more expensive and have much more bass. Orb often matches a low-cost Polk subwoofer with its small, round speakers.
The Bowers & Wilkins 707 S2 (buy at Amazon) is another good but more traditional-looking speaker design that is highly respected.
Final Thoughts on the Orb Audio Mod2 Speakers
I have always had an appreciation for unique industrial design and category-disrupting products. Orb Audio continues to produce loudspeakers that are unlike any other in the audiophile universe. They may not be for everyone, and certainly there are more complete-sounding speakers at a similar price point. But for the money, one would be hard-pressed to find this level of sonic muscle in a smaller, prettier package.
Capable of exceptional imaging and incredible clarity at all volumes, the Orb Audio Mod2s (buy at Amazon) are certain to surprise even the most skeptical critics. Throw in some bonus points for great customer service/support and high WAF, and you've got yourself an unbeatable audiophile-grade combination.