Reading Time:
6
minutes
The SoundArtist LS3/5A loudspeaker is a modern version of a classic speaker design that has been available in one form or another since 1975, when the BBC developed it and licensed the speaker's manufacture to several British audio companies. Today, there are versions of the LS3/5A priced from as low as $600 to as high as $3,300 per pair. Used versions of the original Rogers LS3/5A are listed on eBay.com for as much as $4,000. In this review, we are going to look at the least expensive version, made in China by SoundArtist — which also manufactures electronics and 11 other speaker designs that range from single-driver to multiple-driver horn-based designs. The majority of the company's offerings are based on classic vintage speaker designs and are offered at tempting prices.
The LS3/5A was designed originally to be a nearfield monitor for use in a mobile recoding installation. While many LS3/5As end up being used in room-based speaker setups, that's not what they were designed for. In general they do not perform best when asked to energize an entire room, but when used as they were intended (for a nearfield or desktop listening environment), they can perform on a level that qualifies as a reference monitor even by today's high standards.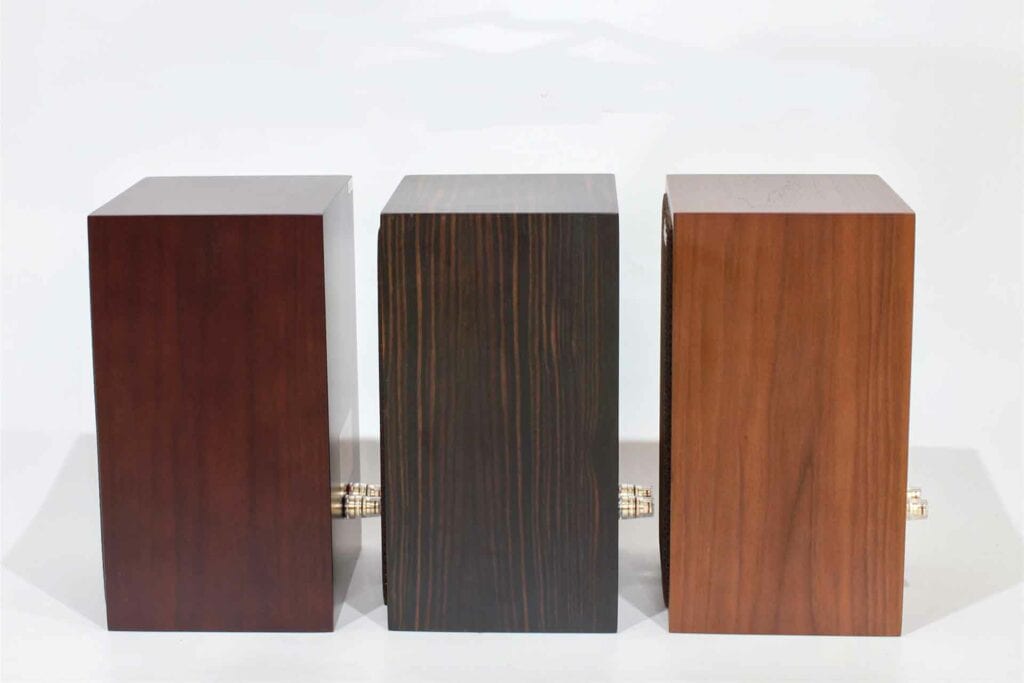 What Makes the SoundArtist LS3/5A Special?
Besides being the first dedicated nearfield monitor designed by the British Broadcasting Company, there are more than 60,000 LS3/5As in the world, making it one of the most successful and influential loudspeaker designs ever created.
Many classic-rock albums made during rock's golden age were monitored via LS3/5As.
While not flat or absolutely neutral, the LS3/5A has a unique sound that lands somewhere between musical and detailed.
Unlike some new versions that are set up to allow for bi-wiring (and therefore beg to have a second-speaker cable run), the SoundArtist version has only a single pair of five-way connectors, like the original Rogers version.
The shipping box and interior packing for the LS3/5A are quite robust. The speakers survived the trip via DHL Express from China to the U.S. with no signs of shipping damage.
While the SoundArtist version of the LS3/5A is less expensive than any other version, it shows no signs of being cheaply made or employing other economies that would lower its overall quality. While it doesn't look as sculpted or interesting as the Falcon LS3/5A, the SoundArtist version is well finished and available in three different veneers: Walnut, Macassar, and Rosewood.
Why Should You Care About the SoundArtist LS3/5A?
With the rise in home audio recording and other desktop applications, the need for a small, nearfield monitor is as strong today as possibly any time in modern history. That is where the LS3/5A excels. This speaker fits nicely on a desktop and can image like a monster.
Some Things You Might Not Like About the SoundArtist LS3/5A
The original Rogers LS3/5A had a impedance of 16 ohms. The SoundArtist version is 11 ohms. Both have 83-dB sensitivity. The resistance difference could make the SoundArtist version demand a slightly different amplifier load.
The LS3/5A has little bass below approximately 70 Hz. For a full-range system, you will need to supply a subwoofer, or you will not hear any meaningful bass.
Because the LS3/5A does not produce much below 70 Hz, the original designers gave it an intentional mid-bass hump. With some power amplifiers and processors, this may give you too much of a good thing. Also, blending these speakers with a subwoofer may be more difficult than with a loudspeaker that has a flatter response.
If you place the LS3/5A too close to a wall, you will emphasize its mid-bass hump even more.
When you use these speakers on a desktop, stands are needed to eliminate desk-bounce that will affect the imaging and harmonic balance.
Listening To The Sound Artist LS3/5A Speakers
With the MQA version (unfolded to 96/24) of "Good Times Bad Times" from Led Zeppelin (Deluxe Edition), the LS3/5As did a great job of punching up John Bonham's rollicking drum line. Jimmy Page's unique, multi-tracked guitar sound, which drove a generation of guitarists nuts trying to reproduce it, had just the right amount of bite through the SoundArtist LS3/5As.
Few jazz albums are more seminal than John Coltrane's Blue Train. When listening to the Qobuz 96/24 Complete Masters version through the LS3/5A loudspeakers, I heard a wonderfully relaxed presentation where the horns were prominent but it was still easy to listen into the piano, drums, and bass lines. Through some stereo systems, the bass can get a little bouncy, thus "Blue Train" was a good test to see if the LS3/5As were delivering too much of a good thing. They sounded pretty damn good in a nearfield position and without a subwoofer.
Does the SoundArtist LS3/5A Loudspeaker Hold Its Value?
Yes, it sure does. Given that a pair of used Rogers LS3/5As goes for $4,000 on eBay.com, it's hard to fathom how a decently made $600 version could not hold its value (within reason). I don't expect the SoundArtist LS3/5A to appreciate like the original Rogers, but given its current price, the most you are ever going to lose on a resale is a maximum $200.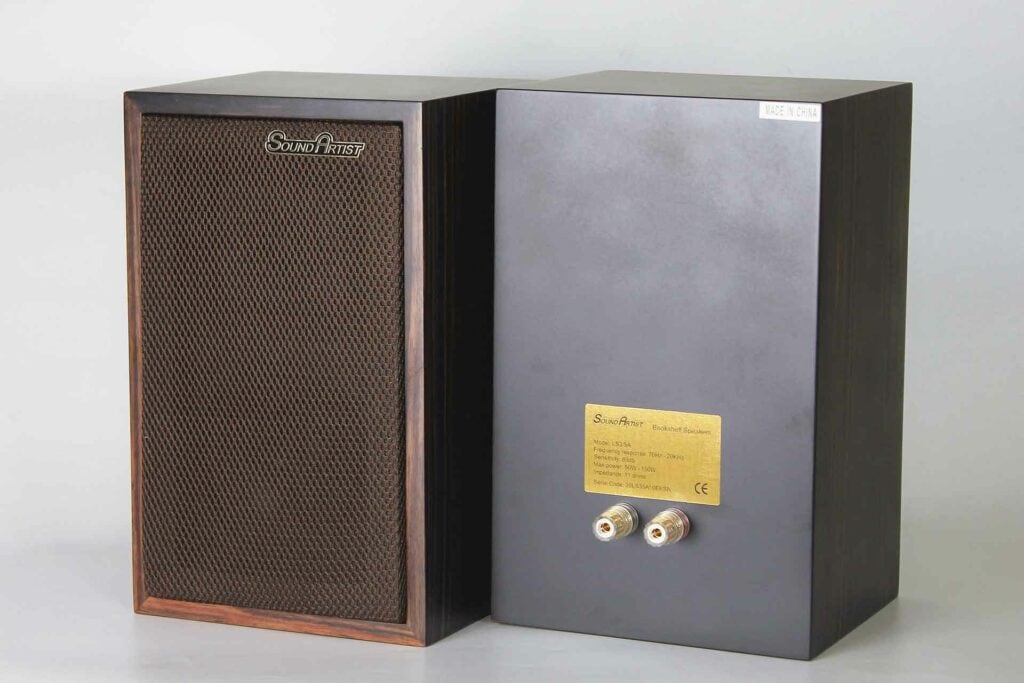 Who Is the Competition for the SoundArtist LS3/5A?
There are many bookshelf monitors in the same price range as the SoundArtist LS3/5A, but none are direct competition—in that most were designed to function both in room and nearfield environments. Looking at Amazon and Crutchfield, you'll find offerings from most of the major manufacturers, including Bowers and Wilkins, Revel, Wharfedale, Polk, Focal, Monitor Audio, Klipsch, ELAC, and MartinLogan. These are all far more modern designs than the LS3/5A and take advantage of the many advances in speaker design we've seen since 1975, but none sound like the LS3/5A. Many are easier to drive, too.
Final Thoughts on the SoundArtist LS-3/5A Loudspeakers
I purchased a pair of SoundArtist LS35/As and was so pleased that, after several months, I purchased a new pair of the more expensive Falcon LS3/5As from Mofi Distributing. After comparing the two different versions, I have concluded that, for nearfield listening, I actually prefer the much less expensive SoundArtist version of the LS3/5A. Why? In one word, midrange.
Based solely on objective measures, the Falcon speaker is a much better loudspeaker. It has better, more extended bass response and greater dynamic range, it can play louder with fewer signs of distress, and it has more extended upper frequencies (according to its specs). But the one area where it does not, to my ears, best the SoundArtist is in its midrange performance, where it sounds artificial and more like hi-fi speakers than real music. The SoundArtist speakers are also a little more forgiving with nastier tracks, which can be a very good thing if you like rock-and-roll. Also, on the subject of rock-and-roll, the SoundArtist speakers love-love-love kick drums. Yes, they add additional punch to the upper bass (perhaps a smidgen more than would be considered balanced or flat), but the effect in the nearfield can move you.
If you are tempted to go down the LS3/5A rabbit hole (as I did), here's some setup advice: First, raise the loudspeakers off your desktop using speaker stands. The best I've found for nearfield desktop systems come from Sound Anchors; the adjustable FSTT stand is my go-to stand for the LS3/5A (as well as almost every other loudspeaker I use in a nearfield setup). Set them up so that your ears are on the same level as the space between the bottom of the tweeter and the top of the woofer. Second, while many owners power LS3/5As with tube-based or Class A solid-state electronics, I've found that the results from the latest generation of Class D amplifiers superior to what I've gotten from other technologies. The 16-ohm, 83-dB sensitivity makes the LS3/5A sort of a quirky load for a power amplifier, but I have gotten excellent results when pairing the LS3/5A with the LSA Warp 1, Topping LA90 (a more conventional Class AB amp), and Clones Audio 25P power amplifiers.
I recommend adding a subwoofer to any LS3/5A setup if you want any appreciable bass below 70 Hz. Also, using an external crossover that relieves the LS3/5A of bass duties below 70 Hz will let them play louder with fewer signs of distress.
I've often read that the LS3/5A loudspeakers are fatally flawed because they are less than ideal as room-based transducers. Well, Arabian horses are also lousy for plowing fields. When used as intended, the LS3/5A speakers can be a fabulous choice for a nearfield audio system. Although I own some far more expensive speakers that I use for nearfield applications, I periodically reinstall the SoundArtist LS3/5A loudspeakers, put on some music I love, and smile.