Reading Time:
7
minutes
Most affordable Bluetooth or powered speakers simply don't provide the musical experience that gives you the goosebumps. There is a point for many music fans who are looking for a more visceral audio experience when they need to upgrade to more robust (and-or or separate) components for bigger-better-clearer sound in their audio rig. Obviously, you can go out and blow five figures on a premium integrated amplifier (this combines a preamplifier's control functions with a power amplifier so it can drive passive loudspeakers) but few of us start our audio journeys that way. Most of us move up the quality component ladder incrementally, replacing the weakest links in our audio systems with better stuff as we go along and as budget allows.
For those who are just beginning their audio journey the myriad of product offerings can be so bewildering that it's enough for many music lovers pull their hair out. Don't worry. It isn't that complicated and the more I look into the categories of ultra-affordable gear, Chi-Fi (Chinese audiophile gear that isn't well distributed in the U.S. but is very low cost) and beyond – the more encouraged I get. 
This brings me to the subject at hand… For under $200 (sometimes even under $150) you can purchase a fine little integrated amplifier from SMSL, the DA-8s. It accepts a Bluetooth signal from your phone or you can attach an analog source from a turntable or digital audio convertor. Then all you need is a pair of loudspeakers and your system is practically complete (you still need some cables and a streaming source for your DAC if you don't stream from your phone via Bluetooth.)
What Makes the SMSL DA-8s Special?
The SMSL DA-8s looks bigger in photographs than it is in real life. But even in such a small chassis the DA-8s shoehorns in a pair of balanced XLR inputs in addition to a pair of single-ended RCA's. The DA-8s also has a Bluetooth input that supports BT version 5.0 as well as SBC, AAC, and AptX codex. With a power output of 80 watts into 4 Ohms using new Class-D amplifier modules from Infineon the DA-8s should have no problems driving medium to high efficiency loudspeakers. The DA-8s even has three built-in EQ options, direct, SDB, and tone, with provisions for both treble and bass adjustments.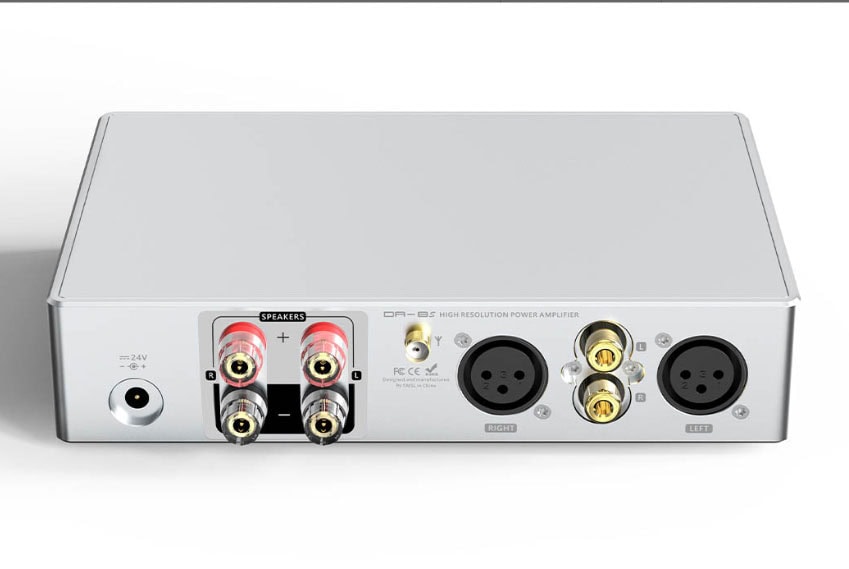 Why Should You Care About The SMSL DA-A8?
Since the SMSL DA-8s has a Bluetooth input, you can have a complete system by adding a pair of passive loudspeakers and the cable to connect them to the DA-8s – and viola… you have a complete working audio system ready to stream right from your phone or other Bluetooth device.
The DA-8s small size and cool running temperatures allows it to fit into small spaces far better than a full-sized audio components. This is a great dorm room or office component.
While inexpensive, the DA-8s serves as a benchmark product. It establishes minimum sonic standards at a budget price. If a more expensive component with similar features can't sonically outperform the DA-8s it has no right to exist.
The biggest fear most of us have regarding a budget component is whether it will break soon after the warranty expires. I have been using the DA-8A in my bedroom system for over a year now. It has been totally reliable and has survived multiple power blackouts, shutdowns, and duty cycles with no issues. My fingers are crossed but then again after a few years – how much can this component owe me? Not much, right?
I mainly used a pair of discontinued (out of business actually) two-way bookshelf speakers that I've had for years with the DA-8s and even at 86 dB (not the easiest speakers to drive) this integrated amp had the muscle to make a pretty impressive sound.
Some Things You Might Not Like About SMSL DA-8s…
The SMSL DA-8s remote is small, doesn't light up and requires line of sight (meaning IR not RF) to work properly which means you can't put the DA-8s into a closed cabinet if you want to use the remote control.
When you try to adjust the volume from the front panel volume control knob, half the time it will go down rather than up. The technical term might be best described as "flaky". The remote has always worked reliably in every aspect.
The DA-8s is so small and light weight that if you use heavy or thick speaker cables, they could tip the unit upwards so it will be resting on its back edge. I solve this by putting a metal, designer doorstop on top of it.
The only way to hook up a subwoofer to the DA-8s is via the speaker level outputs which means you will need a second set of speaker cables to employ a subwoofer. Also, the subwoofer you choose must have a "speaker level" input option. Most do but I wanted to disclose this as adding a subwoofer to a small pair of speakers is right in the wheelhouse for an entry-level product like the DA-8S integrated amp.
Unlike some integrated amps, this unit doesn't have a preamp output so you can use it with a different amplifier as you grow your system thus limiting your upgrade path as the next step, if you want separates, is to get a new preamp AND amp or a bigger-better integrated amp.
Listening to the SMSL DA-8s Integrated Amp…
There are some bands that I wish I had seen live but never did. Kane's River is one of them. They released two albums, Kane's River in 2000 and Same River Twice in 2003 (buy at Amazon on CD). I have both and really dig them. Recently, someone posted a live show they did on You Tube from a festival in Montana. It captures the band's live set, interrupted by a fifteen-minute power outage. If you want to hear one of the best acoustic bands from the early turn of the century. Check out Kane's River.
Part One
The Mr. Sun is an acoustic quartet led by violinist Darol Anger. Their latest album, Extrovert (available via Tidal at 96/24 MQA) (buy at Amazon) showcases their fabulousness. Tunes like "Danny Barnes" which I recorded several years ago when they played in the Salina Schoolhouse in Boulder, Colorado – have evolved somewhat since I recorded them. It sounds pretty damn good here. Scroll to the bottom of Mr. Sun's video page to listen to "Danny Barnes" played in a moderately reverberant space.
The version of Charli XCX's 2099 (buy at Amazon) on Qobuz sounds WAY better than the You Tube official video if you can get access. I often use this track to see how well a system can handle a lot of bass. The DA-8s handles the track fine as long as I don't push it into "louder than you should listen" territory.
More Resources
Does the SMSL DA-8s Integrated Amp Hold Its Value?
While I doubt many of these will be resold on the used market simply because they would have to be priced so low – like half retail – that most owners will probably give them away rather than hassle for $75 – the DA-8s feature set is such that it can be used with a multiplicity of other components for years, and very likely will be in service for an equally long time. It makes a great audio hand-me-down, too.
Who Is the Competition For the SMSL DA-8s Integrated Amp?
Given its low price, there are few competing products in a similar price range with the exact same features. If you are a risk taker you will find other small integrated amplifiers from companies you have never heard of before via Ali Express but they lack any warranty that is fulfillable (most insist you ship back to them for warranty, which is a non-starter when you factor in the shipping cost.) The SMSL is available through multiple domestic outlets that do honor their warranties.
If you have a slightly larger budget, you should investigate the SMSL DA-9 ($249.99) (buy at Amazon) which adds a full color display, slightly better specifications, and MQA decoding capabilities. 
Topping, who are another international Chinese firm, offers the MX5 ($299) (buy at Amazon) which includes digital inputs so all you need to add is a streaming source. The MX5 also includes a decent single-ended headphone output.
Cambridge Audio offers a full-sized chassis integrated amplifier, the AXA25 ($299 at Crutchfield) (buy at Amazon) which has less power (only 25 watts) but more inputs and a USB port for powering low-voltage devices. It also looks more like a "serious" audio component which is nice. 

My new colleague, Andrew Dewhirst, recently reviewed the Sony STR DH-190 "receiver" (buy at Amazon) which at $199 offers support for vinyl users, plenty of power to drive his under-$1,000 Paradigm floorstanding speakers and supports a subwoofer better – is also a good low-cost option for people just starting out or who need a smaller, secondary audio system. The Sony looks more like a traditional AV receiver in terms of its physical presence thus not many speaker cables will make it tip off of its axis like the SMSL DA-8S.
Final Thoughts on The SMSL DA-8 Integrated Amp…
Most of us hardcore, seasoned audiophiles started our journey toward audio perfection with small incremental steps. Back in the day, our entry-level options were relatively more expensive (especially adjusted for inflation over time) than what a beginning sonic searcher will find available nowadays. The SMSL DA-8s ranks as a far better "first option" than what I started with. It offers a perfectly fine launching point for anyone who wants to up their music quality level above Internet-aware Bluetooth speakers. Also, as your journey progresses, the SMSL DA-8s will provide a challenging performance benchmark to compare to your potential future sonic upgrades.
As I mentioned earlier in the review, I've been using my DA-8s in my bedroom system for over a year with no issues and during that time it reproduced a lot of music that was high enough quality to stop me in my tracks to listen. That's pretty damn cool at these prices.