Reading Time:
4
minutes
When one embarks on their  audio journey – everybody needs a place to start. The Sony STR-DH190 integrated amp (buy at Amazon) is a very reasonable starting point for nearly every aspiring audiophile. It's not necessarily the sexiest piece of audio equipment, but as an integrated amplifier that retails at $199 and is available at most big box stores, it is a starting piece that is worth consideration. It outputs 100 watts per channel at 8 Ohms, which is enough to power most speakers that you will find in a similar price range. it has four sets of RCA inputs, which will let you add a cd transport, a streaming box such as the Sonos Port, or a Raspberry PI music streamer, if the DIY route is more of your style. Not to mention a built-in phono stage if you wanted to see what all of the rage was about with vinyl records.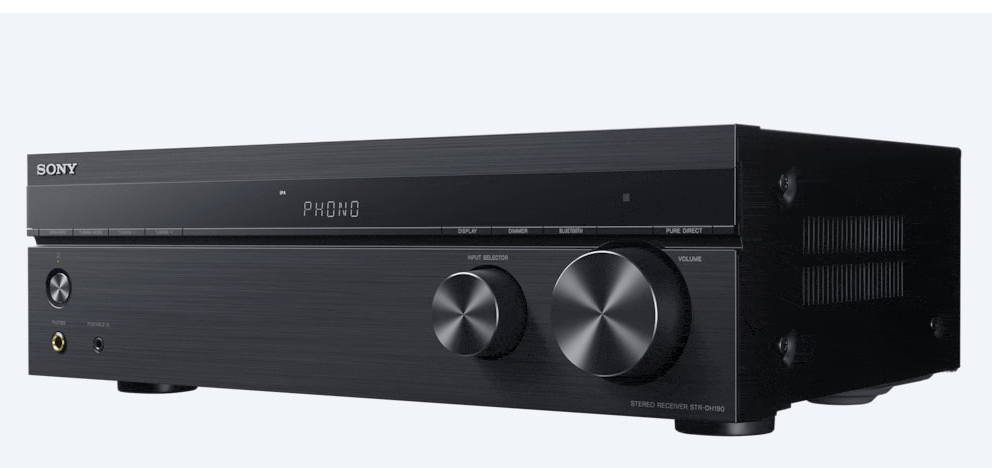 Who The Sony STR-DH190 Is Right For?
As noted the STR-DH190 is a decent integrated amplifier that comes at a reasonable cost. Ignoring the low price, the STR-DH190 offers you quite a bit of versatility. This is a component that you can put into your garage or workshop or maybe you have kids that love music and you wanted to get them a nice stereo system component without breaking the bank? Connecting a device using Bluetooth was simple as well all you need to do is switch the unit to Bluetooth and follow the instructions that Sony has laid out in their manual and you are up and running in a few minutes.
Who The Sony STR-DH190 Is Not Right for?
Anyone who is looking to use the STR-DH190 as part of a home theater system. While it has many analog inputs, it lacks any digital input (HDMI, Optical/Toslink) which means you won't be able to run your television directly into it. This also won't be the right piece if you're looking for something more sophisticated or if you have a large room that you are trying to fill with sound. The amplifier is only putting out 100 watts at 8 ohms which is great for smaller but it will struggle at higher volumes or harder-to-drive speakers.
Who Is The Competition For the Sony STR-DH190?
If you are looking for an integrated amplifier and you're working on a budget, then the Sony STR-DH190 is very much worthy of consideration. It has enough power to drive most speakers and it has lots of room for you to expand and explore different components should you wish to go on a HI-FI journey while still having everything you need to get started. There aren't a whole lot of other similar items in its price category, you're either looking at the Sony unit or the Yamaha RS 202, which offers a similar spec list. If you have the budget and you're looking for something a little more refined then you can look at some of the best-known brands in HIFI such as the Cambridge Audio AXA35 (buy at Amazon) which retails for closer to $399, has similar inputs, and outputs 35 watts at 8 ohms, mind you with significantly less total harmonic distortion (THD) at just 0.01 percent vs Sony and Yamaha's 1 percent THD. Or you can also look at the NAD C 316BEE V2, which offers slightly more power than the Cambridge Audio unit at 40 watts at 8 ohms, and 0.03 percent THD and it retails in the $499 range. It is hard to argue that the Cambridge Audio and NAD products will have a better sound to them, but it is hard to match the value of the Sony when it is $200-300 less.
Listening to the Sony STR-DH190 Integrated Amp…
The first track I listened to with the Sony integrated amp was "Walking on the Moon" by The Police (CD resolution AIFF 1440). The amp was able to produce the higher octaves of Sting's vocals during this song, as well as the similarly high octaves of Andy Summers' guitar throughout the six minute live version of this piece, while still putting enough bass from Sting's bass and the great Stuart Copeland's beautifully steady beats, through my Paradigm Premier 700F floorstanding speakers (the review on those speakers to come later). I streamed the track through a Sonos Port, playing though at 16 bit/44.1kHz quality. The Sony handled all of this with great ease. 

The second track that I used is something a little folkier, "The Suburbs" by Arcade Fire (buy at Amazon). I wanted to check something out that had more depth than the three pieces you are typically getting from the Police and The Suburbs did just that. It's a track that is heavy on the piano, but still features enough guitar, bass guitar, drums, some violin and a touch of a synthesizer. If you haven't seen the cool Spike Jonze directed music video, you can find a link below. With that said, the Sony again had no issues producing all of the different instruments on this track with great clarity. At no time during the 5:00-plus minute track were any of the assortment of instruments difficult to pick out, which is really nice again considering the how value priced this piece of equipment is.

Final Thoughts on the Sony STR-DH190 Integrated Amp…
The value of the the Sony STR-DH190 (buy at Amazon) is really hard to beat especially if you're just getting started in high performance HI-FI. This is a piece of equipment that you remember on your journey, not necessarily because it was the finest component that you will ever own, or the best looking and so on. You will remember it because of where you can go from the the STR-DH190 in the hobby. It can be used as a preamp. You can use it in other rooms. There will always be a place to get some enjoyment from the Sony STR-DH190 placed in your main system or any number of other locations.