Reading Time:
9
minutes
About eight years ago, PS Audio introduced the PerfectWave DirectStream DAC to quite a bit of audiophile fanfare. It immediately garnered significant acclaim and was praised for its sonic capabilities relative to its price. Introduced late in 2022 (but not available until January of 2023) PS Audio has upped the ante with a new version, the DirectStream DAC MK2, which has a lot more performance to offer music lovers with the coin to pop for a $8,000 digital-to-analog converter.
Digital technology is an ever-moving target in the audio domain, and what was acceptable yesteryear is frequently outdated today, if not outright obsolete. As such, off-the-shelf DAC chips with no upgrade path are much less desirable in today's audiophile marketplace. To counteract this, PS Audio and digital design legend Ted Smith chose a path favored by several of today's digital component manufacturers: they made their gear quite upgradable, and that carries forward with this new revision of the company's beloved DAC. Through software upgrades, users can keep the DirectStream DAC MK2 somewhat futureproof.
What Makes the PS Audio DirectStream DAC MK2 Special?
Using Field Programable Gate Array (FPGA) technology, the twin DAC chips inside the DAC MK2 may be upgraded over the Internet when PS Audio releases new firmware. Best of all, these upgrades are provided at no cost to the user.
The FPGA DAC chipsets are custom-designed by Ted Smith. The DirectStream DAC MK2 uses no third-party off-the-shelf DAC chips.
The DirectStream MK2 processes PCM, Native DSD, and DoP (DSD over PCM).
All PCM and native DSD files are upsampled to 20x DSD.
All inputs, outputs, grounds, and power sources are galvanically isolated. This serves to reduce unwanted noise and jitter.
The DirectStream DAC MK2 can serve as a standalone DAC with volume controlled by a preamp or connected directly to an amplifier thanks to its own volume attenuation capabilities.
The PS Audio DirectStream MK2 is fully balanced from input to output.
Digital inputs include two I²S connections, one Coax, two XLR (Balanced), Optical (TosLink), and USB. Analog outputs include single ended RCA and XLR balanced.
The PS Audio DirectStream DAC MK2 comes in silver or black. I especially like that, as I always want to keep the component colors in my system consistent.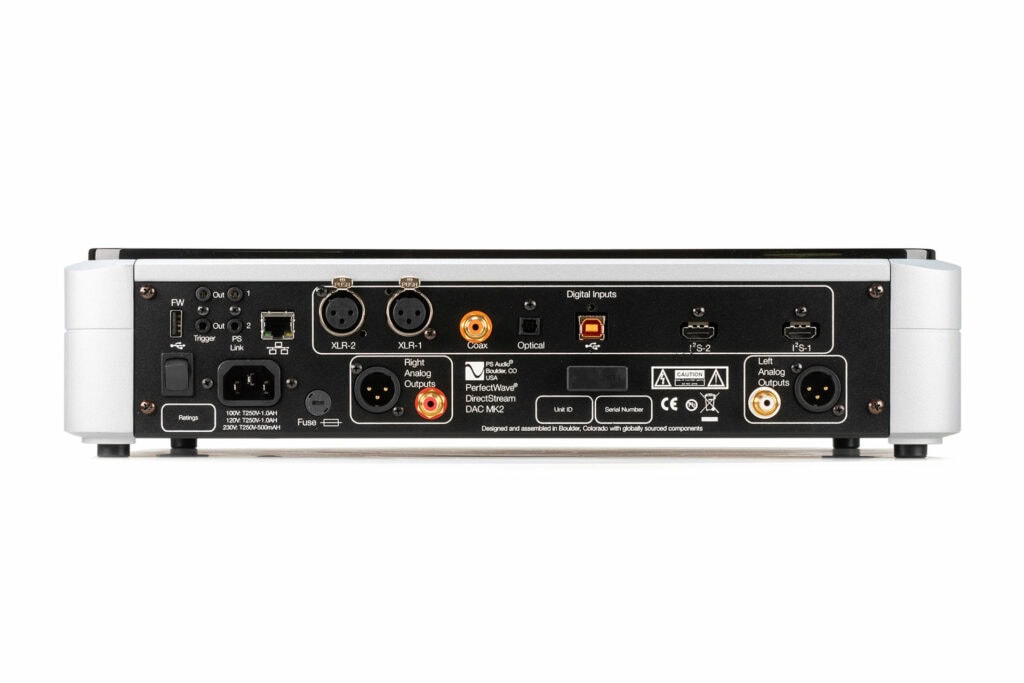 Why Should You Care About the PS Audio DirectStream MK2 DAC?
The cost of the MK2 relative to the available features and the performance it provides makes this DAC an excellent choice. When you consider how many DACs these days become obsolete in a few years because they cannot be user-modified over the Internet, having something that may be upgraded for years to come, and done for free, makes this component suddenly very interesting.
Some Things You Might Not Like About the PS Audio DirectStream DAC MK2
Upsampling to 20x DSD is not user selectable. If you wish not to upsample for any reason whatsoever, you're out of luck.
The PS Audio Direct Stream DAC MK2 isn't designed with multiple DAC chips, as some digital-to-analog converters in this space are. Multiple chips allow for a somewhat customizable sonic picture. Admittedly, this is a feature most commonly available on DACs with a much higher retail price than the MK2.
There are no user-selectable reconstruction filters for PCM. Not having this flexibility hampers the user from crafting a preferred sonic signature. Having multiple filters allows, albeit on a somewhat limited basis, the ability to slightly change the sonic presentation.
There are no provisions for streaming services such as Tidal, Qobuz, or the like. You'll need to add your own device capable of streaming.
While there is a display screen, it is somewhat small, making it difficult to read when seated across the room.
Listening To the PS Audio DirectStream DAC MK2…
Generally speaking, I was impressed with the performance of the DirectStream DAC MK2. It performed very favorably in terms of clarity, accuracy, dynamics, and imaging. In fact, the imaging, both side to side and front to back, were as good as any of the DACs I've reviewed recently, and lateral side imaging was even better than the world-class T+A SD3100 HV. 
I also noticed, however, the MK2 was slightly aggressive, perhaps even a bit forward, particularly in the midrange frequencies and especially in the highs. Two of the other DACs I've reviewed recently, while equally analytical as the MK2, did not seem as aggressive. This was more noticeable on different songs, so the recording certainly has something to do with this characteristic. Despite this, I still found the DirectStream DAC MK2 a very listenable product. It performed very well in my system. I mention the sometimes-aggressive nature more as a difference in the overall presentation as compared to the other DACs.
On purpose, I chose the 44.1/16 Decca Recording of the Original Broadway Cast of Wicked (buy at Amazon). Of particular interest was the track "Defying Gravity." Sonically, this track is very intricate. Not only does it feature both of the major stars, Idina Menzel and Kristen Chenoweth, it is a very complicated song, portraying both the spoken word, commanding vocals, an immense orchestra, and wide-ranging dynamics. The system must be easily capable of discerning Menzel's voice from Chenoweth's despite both of them sometimes speaking, sometimes singing independently, and other times singing together.
Compared to my other DACs, the MK2 handled this song with equal ease. While certain fine details, such as some of the transients of the orchestra, were not as readily portrayed as compared to the Bricasti M21 Platinum Edition, for instance, the detail was nevertheless revealed quite well. Additionally, it handled the wide dynamic range quite effortlessly. And given how the music moves from very quiet passages with only one singer speaking rather softly to both principal singers and the orchestra going all out, I did not get the feeling I was missing anything at all. The DirectStream DAC MK2 did a fine job making this song sound like the standing-ovation showstopper it is.
Listening to the 44.1/16 recording of "Anti Hero" by Taylor Swift from her Midnight (Buy at Amazon) release, the track begins with a very tight, mostly deep bass riff that could be easily compromised by an underperforming audio system. My system, with the DirectStream DAC MK2, suffered no issues whatsoever on this song's intro. Something I have noticed on this and other of Swift's recordings is a faint reverb. It did not reveal itself when I played the YouTube track on my Apple Mac Pro computer. It certainly did on my hi-fi system, however. This ever-so-slight recording effect adds a sense of realism to the mix. The bass line is quite pronounced, and at about the 3:00 mark, I actually felt the bass moving across the floor. Say what you will about Ms. Swift, and I'm not a real huge fan of her music, but I thought this song on my system with the PS Audio DirectStream DAC MK2 sounded superb.
Does the PS Audio DirectStream DAC MK2 Have Any Resale Value?
This raises an interesting dilemma. In this instance, resale value is proportionally tied to the user's choice in new equipment. PS Audio, as a company, employs a direct sales model and does not exclusively rely on dealers to promote their equipment. As such, any existing PS Audio customer may expect a very favorable trade in value as long as they are purchasing a new PS Audio component. For this reason, many customers remain in the PS Audio family.
If, however, you wish to replace a current PS Audio component with one from a different manufacturer, PS Audio gear is widely sold on the used market. Resale values across the entire product line are usually 50 percent of retail value or less, depending on the component, age, and condition. Generally speaking, the best opportunity for optimal value proposition is by returning the component back to PS Audio for trade-in against the purchase of a newer version.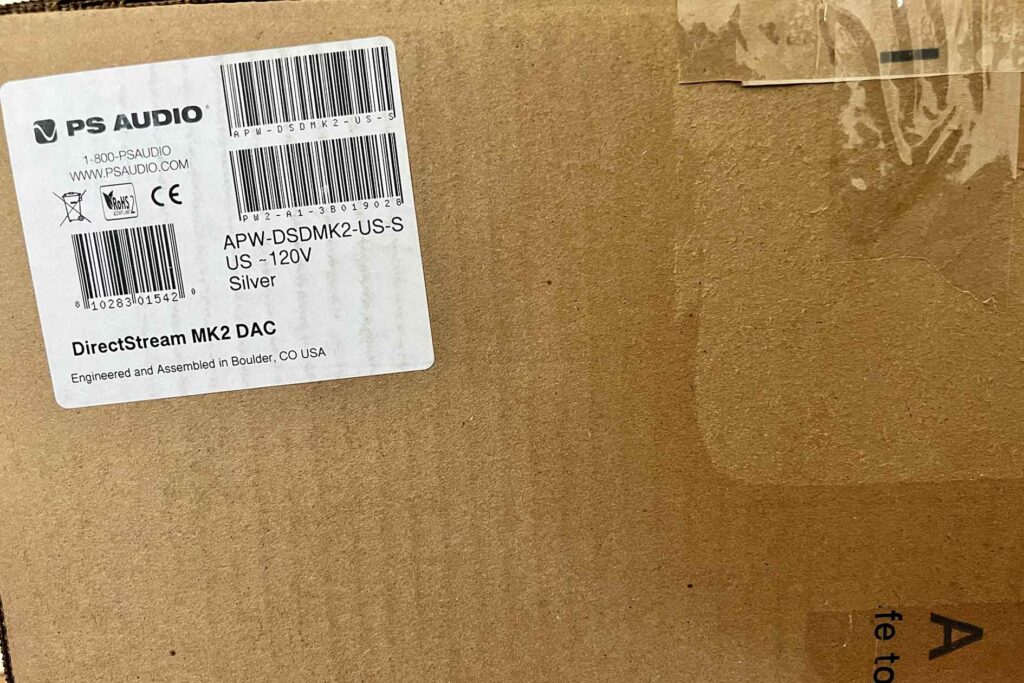 Who Is the Competition for the PS Audio DirectStream MK2?
There are any number of $8,000-and-up DACs available. We've reviewed a number of them recently, and as such can make some direct comparisons between them.
Without question, the closest in terms of cost is the Meitner MA3. At a retail price of $10,500, the MA3 costs less than a third more than the $7,995 DirectStream DAC MK2. Both units are fully discrete and utilize FPGA technology, allowing for Internet based upgrades. Both upsample to DSD: PS Audio to 20xDSD, Meitner to 16x DSD. 
Sonically, they are somewhat different, which offers the user a choice. PS Audio renders a more analytical presentation, somewhat more forward, with sharper dynamics. Meitner, by comparison, offers a warmer, softer, more rounded sonic picture. Both are equally capable in terms of clarity, accuracy, and imaging. Meitner offers direct streaming of services such as Tidal and Qobuz, whereas PS Audio has no direct streaming capabilities. What type of sonic presentation the listener prefers will determine which of these would be a better fit.
Compared to the Bricasti M21 Platinum Series DAC ($19,000), the PS Audio DirectStream DAC MK2 is more similar in sonics than I would have expected given the difference in retail price. Not surprisingly, the Bricasti has considerably more to offer. With the Bricasti M21 Platinum Series, the user has three DAC chips, one for PCM only, one for PCM and DSD, and one exclusively for DSD.
Bricasti also offers two filter settings for PCM. Both of these, partnered with multiple DAC chips, allow a somewhat user-crafted sound. Bricasti also has two power supplies: one for the digital inputs and one for the analog outputs. The PS Audio only has one power supply. Both have galvanic isolation to help reduce crosstalk, noise, and unwanted jitter.
Despite their design differences, the PS Audio DAC delivered an excellent auditory picture, but one with slightly less retrieval of transient detail. Imaging, both side-to-side and front-to-back, were comparable between both units. The Bricasti is slightly more dynamic, which is noticeable on music with powerful passages. All in all, the sonics of the Bricasti M21 Platinum are perceptibly better than the DirectStream MK2. However, when you consider the cost is more than double, expanded features and better sonic capabilities should be expected.
Comparing the PS Audio DirectStream DAC MK2 to the T+A SD3100 HV is hardly a fair comparison. At more than four times the cost, the $36,300 T+A DAC has features extending well beyond the DirectStream DAC MK2. And this raises an unassailable point. These DACs, while performing the same basic function, are really meant for two different types of systems. Any DAC as expensive as the T+A will hardly be used in a budget system, and the PS Audio, while it could be used in a world class system, probably would not be considered.
However, when examining sonics alone, the PS Audio DAC gives closer-than-might-be-expected sonic results. Particularly surprising was that the PS Audio DAC had wider side-to-side imaging than the T+A. Front-to-back imaging sounded about the same to me. Where the DirectStream MK2 DAC fell short in this tough competition is in an overall retrieval of detail, a less dynamically powerful presentation, and considerably less-commanding bass authority. Of the DACs I've reviewed recently, none could compete with T+A's imposing low-frequency capabilities. Lastly, T+A supports streaming of a wide range of services, including streaming Tidal, Qobuz, Internet Radio, and a host of other similar features, whereas PS Audio does not. Given the significant cost of the T+A SD3100 HV, these services and capabilities should be expected.
Final Thoughts on the PS Audio DirectStream DAC MK2
On their website, PS Audio states: "There has never been a better sounding DAC at anywhere close to the price of DirectStream MK2." Obviously, I have not tested every DAC at this price point, so I'm not qualified to confirm or refute the company's claim. What I can confirm is for the comparatively low cost of the DirectStream DAC MK2 (versus a number of the big boys in the audiophile digital world), the user will be greeted by an eminently excellent sounding DAC. Additionally, it performed outstandingly well in my listening room as compared to other, some much-more-expensive, DACs.
The PS Audio DAC sounds musically accurate, it portrays a very specific image placement, it is detailed, dynamic, and highly listenable. That it possesses these attributes for the cost of $7,999 makes this DAC all the more impressive. While the PerfectWave DirectStream DAC garnered a lot of buzz when it was released, my guess is a veritable chorus of accolades will soon be surrounding the DirectStream DAC MK2. If my budget only allowed for an $8,000 DAC, I would give this one a very, very serious listen. Given its retail cost, it will effectively raise the bar on delivering a magnificent audio experience. I suspect PS Audio has introduced a DAC that will become a widely used, often coveted, and highly enjoyable product. Because for the retail price, it really is that good of a product.