Reading Time:
5
minutes
Long cable runs to your powered speakers or subwoofers can increase the cost of a sound system substantially. Also, occasionally, getting a cable from your receiver to your sub or powered speakers can be impossible, such as when you would need to drill a hole in the wall, but you rent your home. This impasse can be solved by using a wireless connection, which is exactly what the SoundPath Tri-Band Wireless Audio Adapter (buy at Amazon) can do for you.
What Makes the SVS SoundPath Tri-Band Wireless Audio Adapter Special?
Although wireless connections to replace cables have been available for some time, the early ones were often mono only and limited bandwidth, so they could only serve for one channel of sound. The SoundPath is a two-channel receiver/sender combination so that you can use it for sending a stereo or dual-mono signal to another room. Also, unlike first-generation wireless devices, the SoundPath will work on three different Wi-Fi frequencies: 2.4, 5.2, and 5.8 GHz, and can switch automatically from one to another to maintain a reliable wireless connection. The Tri-Band also supports multiple receiver units, so you can potentially fill multiple rooms with sound.
Why Should You Care about the SVS SoundPath Tri-Band Wireless Audio Adapter?
The SoundPath Tri-Band can deliver a full-bandwidth signal (6Hz to 20 kHz ±0.5dB), so none of the music will be truncated by a limited frequency response.
The SoundPath adapter has a published range of 130 feet line of sight. Obviously, walls will reduce its range, but given its range, one or even two walls should not be a problem.
Like all Wi-Fi send/receive units, the SoundPath must digitize the signal. It resamples to 48kHz/16-bit and has a signal-to-noise spec of 105dB, which is pretty good for a wireless adapter and rivals many analog preamplifiers.
The latency (the delay caused by the adapter) is only 14 milliseconds, which is quite good.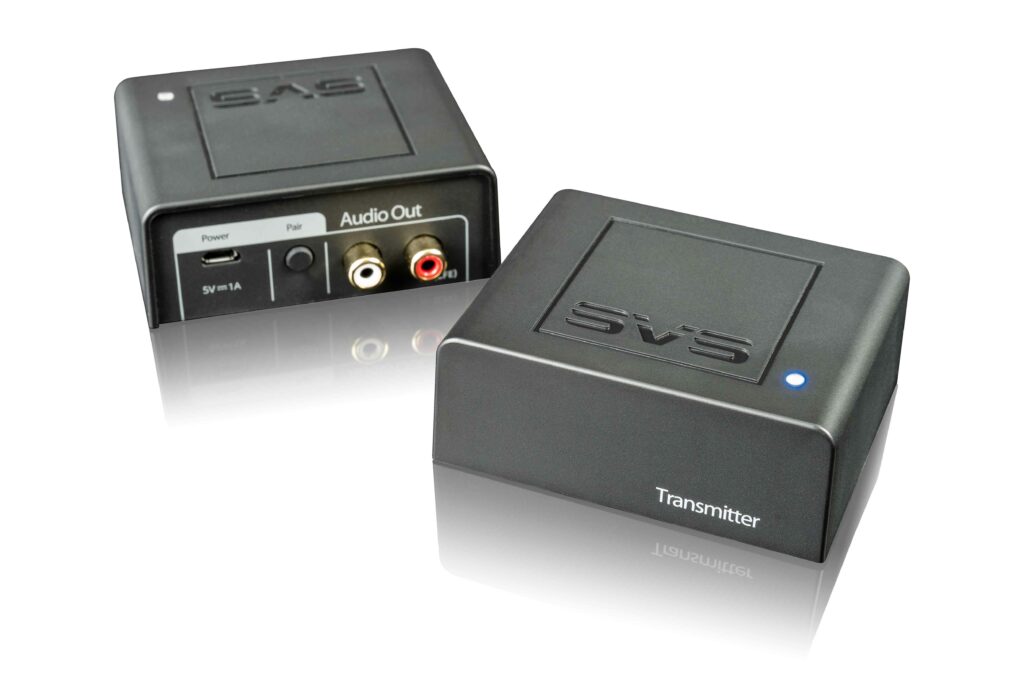 Some Things You Might Not Like About the SVS SoundPath Tri-Band Adapter:
It only has provisions for line-level RCA single-ended connections. If your amp or preamp doesn't have RCA subwoofer outputs (or pre-amp outs if you're using these with powered speakers), you may not be able to use the adapter .
The SoundPath digitizes any signal that passes through it to 48 KHz. If you are an analog fan, you might not want to digitize your signal. Also, any higher-resolution digital sources will be re-digitized and down sampled (after being converted analog by your DAC or receiver).
The send and receive units are encased in lightweight plastic boxes that will probably move around unless you put some weight on top of them.
Listening To The SVS SoundPath Tri-Band Adapter…
BTS "Yet to Come (The Most Beautiful Moment)" via Tidal (44.1/16) (buy at Amazon) has a lot of dynamic drive and upper frequency extension, with a weird background synthesizer drone that envelops the entire width of the horizontal soundstage but it doesn't intrude on the lead vocals locational cues, clarity, or edgy quality. The SVS Tri-Band Adapter was able to deliver the music wonderfully from a DAC in one room to a sound system in another.

Dan Tyminski, who's been part of Alison Krauss's band for many years, put out a tribute to Tony Rice called "Church Street Blues." Joined by Stellar guitarist Molly Tuttle on guitar and background vocals, they tear through their superlative version of this Tony Rice classic. The 44.1/16 version on Qobuz has far better dynamics, snap, and fidelity than the You Tube version, but the video gives you a taste of what you'll hear on a full-resolution one. The SoundPath Tri-Band adapter didn't deliver every ounce of detail I would expect from a wired connection, and there was an increase in base-level noise, but it was still quite impressive what I was able to accomplish with a wireless connection.

Is The SVS SoundPath Tri-Band Adapter a Good Value?
Yes, although needless to say that value probably isn't in re-sell-a-bility. Not only can you use it for attaching active loudspeakers or a subwoofer wirelessly, but you could also use it to connect the analog output of a source component, such as a turntable or DAC located in a separate room, wirelessly to your system. That doubles its usefulness.
Who Is the Competition For The SVS SoundPath Tri-Band Adapter?
SVS makes two wireless adapters. If you do not need the range of the Tri-Band, you could get the standard model (buy at Crutchfield), which has a range of 65 feet, for only $119.99. The only other drawback to the standard model is that it uses 3.5 stereo connector instead of RCA connections.
The KEF KW1 (buy at Amazon) wireless subwoofer adapter ($199) is also a stereo adapter with RCA connections, but it uses 48kHz/24-bit for its digital encoding. The disadvantage is less range at only 100 feet.
If you own a Klipsch C series subwoofer you might want to opt for the Klipsch WA-3 (buy at Amazon) wireless transmitter ($229). 
Paradigm, MartinLogan, and Nuvo all make wireless adapters for their own brands of subwoofers that may also be adaptable to a stereo connection, but none offer specifications or features that equal the SVS SoundPath Tri-Band Adapter.
Final Thoughts On The SVS SoundPath Tri-Band Adapter …
Wireless connections offer music lovers installation options that exceed what can be done with wired connections. But in the past, wireless audio suffered from connectivity and bandwidth limitations that affected its ability to be a robust connectivity solution. But with the advent of greater Wi-Fi bandwidth and higher sampling and bit rates, the fidelity and reliability of a wireless systems has vastly increased.
The SVS SoundPath Tri-Band Wireless Adapter is the first wireless adapter I've reviewed that has not only excellent range, but also decent frequency response and a high enough digitization at 48kHz/16-bit, k just higher- than CD quality. Sonically, the Tri-Band Adapter was very good, but not completely transparent. When used as subwoofer connection, I did not notice any reduction in fidelity, but when I used it to connect a DAC from a different room, there was a slight hiss when I got my ears within a couple of inches of the tweeters. If you have a high-gain audio system with high-sensitivity speakers, the added noise may be noticeable, but with medium- and low-sensitivity loudspeakers you may not notice any difference.
The SVS TriBand Wireless adapter (buy at Amazon) does exactly what it is supposed to do: transmit your music wirelessly to your subwoofer or a pair of active monitors in a location removed from your source device(s) or sound system. Since it is a digital device, I have little doubt that will eventually be superseded by an even more high-definition transmitter/receiver combination that can support high-resolution digital without any down-sampling. But for the foreseeable future, the SVS Tri-Band Wireless adapter will successfully solve your connection problems when a hard wire isn't an option.