Reading Time:
6
minutes
A subwoofer, as its name implies, is a loudspeaker built to handle the lowest frequencies. Usually, a subwoofer can produce sounds below 120 Hz. Some can even go as low as 20 Hz in your room, if properly set up. A subwoofer's price can range from around $100 to five figures for a model from a premium manufacturer. What causes such a wide disparity? Production methodologies, the materials employed, the level of fit and finish, and the included features all affect the final retail price.

What Makes the Monoprice SW-12 Subwoofer Special?
While there are many small, modestly priced subwoofers, most come with smaller woofers than the 12-inch one used in the Monoprice SW-12 (buy at Amazon). 
Many inexpensive subwoofers come with either a line-level or speaker-level input, but the Monoprice SW-12 has both input options, which gives you more flexibility in system connection.
The SW-12 uses a down-firing port, which allows the subwoofer to produce lower frequencies than the basic dimensions of the cabinet itself would support. The port is located on the underside of the cabinet and improves the SW-12's low-frequency extension down to 33 Hz.
Why Should You Care About the Monoprice SW-12 Subwoofer?
The SW-12 subwoofer can deliver a full frequency response between 33 and 150 Hz via an adjustable knob on the back of the cabinet. You can also use an external crossover for additional control over the subwoofer's parameters.
The SW-12 has adjustments for overall volume level, as well as phase and auto-on. All controls and inputs are located on the back of the subwoofer, which is easier to access than if they were on the bottom of the cabinet.
The SW-12 has a 400-watt built-in power amplifier capable of 600-watt peaks and only 0.05 percent distortion. To handle this power, the SW-12 uses a special heavy-duty driver designed for this use.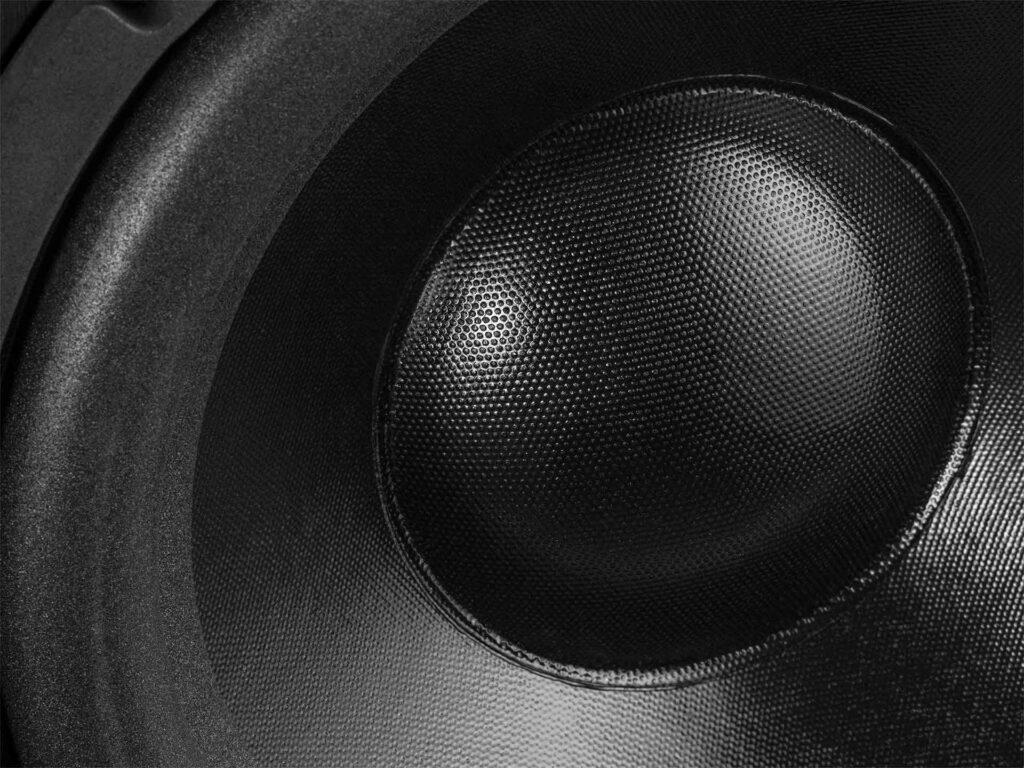 Some Things You Might Not Like About the Monoprice SW-12 Subwoofer
The Monoprice SW-12 measures 14.9 by 18.3 by 19.1 inches and weighs 50.7 pounds. So this is not a small subwoofer. In some installations, its depth may be a problem, as it protrudes farther out into the room than a more compact model would.
The SW-12 uses a fixed 18-dB-per-octave crossover slope. A 12-dB or 24-dB crossover might be a better match for your loudspeakers, but that is not an option unless you add an external subwoofer crossover unit.
While the cabinet is well-braced and seems quite solid, it did produce more upper-frequency cabinet resonances than my more expensive reference sub, the JL Audio Dominion D10.
Some more expensive subwoofers, like the pricey JL Audio F-112, can get down to 20 Hz, but the SW-12's lower limit is 33 Hz, which will not get you the lowest notes on an organ.
Listening To The Monoprice SW-12 Subwoofer…
Finneas's release Optimist (buy at Amazon), played through Qobuz at a resolution of 88.2/24, has several tracks that will give your subwoofer a workout. My favorite, "The 90s," has especially brutal bass, at times with a high level of added distortion. At 2:10 in the tune, the intentional distortion goes off the rails. I love playing this track through the stereo system of someone who hasn't heard it before: By 2:24 they think their system is broken. The SW-12 handled this track fairly well considering its affordable price. There was a little bit too much mid-bass, even when I turned the subwoofer's input level down to the least acceptable setting. The distortion-filled track only sounded a little murkier compared to my larger, more expensive JL Audio reference subwoofer.
Bleachers (buy at Amazon on vinyl) has long been a favorite pop artist of mine. On a recent album release, Live From Electric Lady, played via Qobuz at 44.1/16, he collaborates with Bruce Springsteen on "Chinatown." The cut that I love, both musically and philosophically, is "How Dare You Want More" which features a gradual ramp up in volume and energy that includes a spirited call-and-response between Bleacher's guitar and the saxophone. I began listening to the track at a pretty robust level, and by the middle, the SW-12 began to emphasize its upper-range issues (between 50 and 80 Hz)—so the character of the bass changed somewhat, sounding less controlled. But this wasn't as noticeable at lower listening levels.
Does the Monoprice SW-12 Subwoofer Hold Its Value?
Yes, if you consider that its very low price means you can't expect the subwoofer to owe you much after owning it for a few years. It could be donated, resold locally (shipping would be price-prohibitive), or just recycled—but it is hard not to see the value here.
Who Is the Competition for the Monoprice SW-12 Subwoofer?
Monoprice's main competitor may be… Monoprice. The company has 15 subwoofers of various sizes and prices in its lineup. The least expensive model has an 8-inch driver coupled with a 60-watt amplifier, so the sub only goes down to 50 Hz. The most expensive model, the Monoprice 16-inch Monolith (buy at Amazon), has 2,000 watts of power and gets down to 17 Hz using three of its four ports.
Polk Audio's PSW111 subwoofer (buy at Amazon) sells for a similar price as the SW-12 but has a smaller woofer. It gets down to only 40 Hz and uses cheaper spring clips (instead of five-way binding posts) for the speaker-level inputs. The PSW10 weighs half as much as the SW-12 and has 1% distortion at its rated output.
The Klipsch Reference R-10SWi (buy at Amazon) has a 10-inch driver that gets down to 32 Hz, powered by 150-watt amplifier. It offers built-in wireless capabilities and can be mated with Klipsch's wireless adapter. But it lacks speaker-level inputs, and due to its rear-firing port, placing it too close to the back wall could be problematic.
Final Thoughts on The Monoprice SW-12 Subwoofer
A subwoofer is, at its most basic, a large driver and a box. Beyond those two basic elements, the rest can vary drastically. Many subwoofers use ports or vents to extend their low-frequency capabilities. These vents or ports can be located on the front, back, side, or bottom of the cabinet. Each option has different advantages and disadvantages. Front ports increase the overall cabinet dimensions. Rear ports make placement close to a wall problematic. Side-firing ports can excite a room's resonances in undesirable ways. With down-firing ports, the performance can be compromised by the surface it fires down upon. All ports, regardless of their location, introduce some phase shift as their frequencies lag behind the driver, since they create low-frequency sympathetic resonances. In physics, there are no free lunches: When you improve one specification (in this case, low-frequency extension), it is often at the expense of another.
The other option is a sealed cabinet design, which often requires a very large cabinet to get the best low-frequency extension. Some subwoofer manufacturers manage to get more bass response from smaller sealed enclosures through use of equalization, high-power amplification, and long-throw extra-heavy-duty drivers, but these solutions add substantially to the final cost of the subwoofer.
This brings us to the Monoprice SW-12. It is clearly a budget-priced subwoofer, and we appreciate that for obvious reasons. But due to its low price, Monoprice had to make cost-effective design decisions. The first, and most obvious, compromise is the finish of the cabinet itself. The simple black, textured surface is as basic as you can get. Also, the speaker grill is basic fabric over a frame, anchored at the corners by plastic inserts as opposed to fancier magnetic attachments or a metal grill.
Sonically the SW-12 does a very respectable job of producing clean bass. Compared to my reference JL Audio Dominion D-10 subwoofer in the same system, the SW-12 created more upper-frequency resonances from its cabinet. Also, the SW-12 did not extend as low as the JL Audio subwoofer, and the overall tonality of the SW-12 was titled toward its upper frequencies, giving the bass a bit too much warmth from around 50 to 80 Hz. That said, the Dominion D-10 is a reference-level subwoofer costing $1,000 with a black ash finish and $1,200 with a gloss black finish—so this is like comparing a VW Bug to a Mercedes AMG. The fact that the Monoprice SW-12 can hang at all is a big positive.
I tested the SW-12 in two ways. First I used its own internal crossover. Later I turned the SW-12's crossover control up to its maximum of 150 Hz and used JL Audio's CR-1 external crossover set at 65 Hz. Using the JL crossover, I could choose a 24-dB-per-octave slope, which gave the SW-12 a tighter, more controlled response. It still did not go any lower, but the 24-dB crossover cleaned up some of the excess upper-bass energy and let the SW-12 play slightly louder without distress. I further improved the SW-12's overall performance by turning up the bass-damping control on the CR-1 crossover.
One major difference between the SW-12 and a more expensive, higher-power subwoofer is that the SW-12 struggled to play cleanly while playing loudly. If you have a small room or you listen at low or moderate volumes, the SW-12 could be an ideal low-cost option. But if your room is larger and you play your music loudly, you may find the SW-12 wanting in its ability to keep up at higher volume levels. You could try using two of them (true stereo subwoofers do add a certain something). But if you don't think two SW-12s will do the trick, Monoprice has plenty of larger, more powerful, and more expensive subwoofers in its collection that might be just right for filling your room with boom.