Reading Time:
8
minutes
Call me what you want… publisher, editor, entrepreneur, schmuck or just Hey You and I likely will respond quickly and with a smile. Despite running my own publishing business for nearly all of 25 years, I still pretty much consider myself a stereo salesman at heart. That's where I got my roots when I was a punk, 16 year old kid, back in the suburbs of Philadelphia when I needed to "pay rent" of $125 per month (as well as $1.25 per gallon diesel fuel) for my 1981 very-beige Mercedes 300-SD Turbo Diesel S-Class sedan – possibly the slowest but most tank-like, reliable automobile that the world has ever known. As a high school freshman, I was on pure commission and I had about six hours, one-day-per-week to make my all of my weekly sales. And I did found a way to make it work which ultimately led to more and more fancy gigs in AV sales both in Philly as well as ultimately in Beverly Hills and West Hollywood. Like being a loyal Flyers or Eagles fan, I am not sure you ever get the stereo salesman out of your blood, no matter what you go on to do.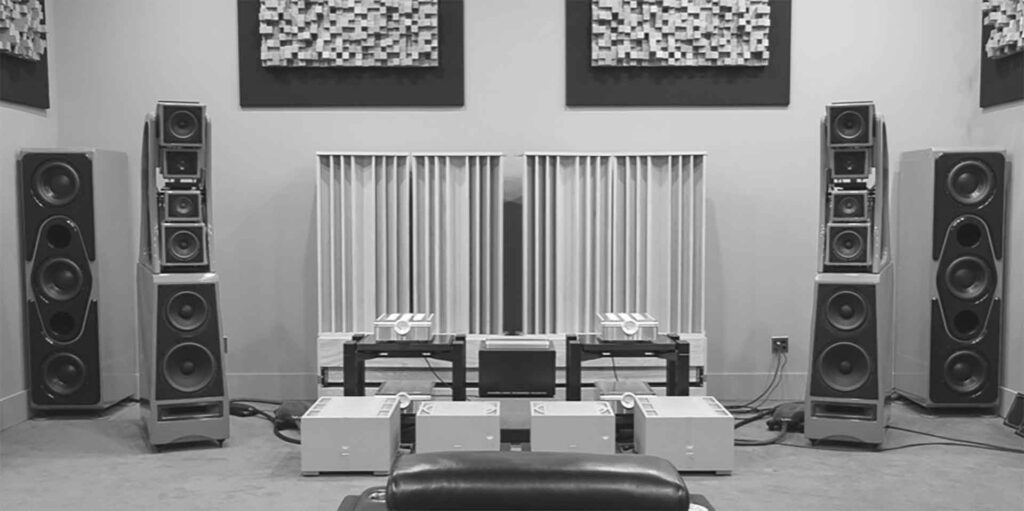 With a careful eye, I have been looking at the ways that audiophile retail has changed in the past decade as it has been quite significant. Let's be clear, the audiophile traditionalists love the way that the do (and have done) things but they very much tend to fight change in any way that it might present itself but in the event of audiophile retail – change is needed if there is to be any hope of having places where you can still experience top-level equipment before you buy it. And with change everywhere in AV retail, there are specific trends from all over the country – most of which are worthy of taking note of.
Build-It-And-They-Will-Come… ALWAYS FAILS in the Audiophile World
One online troll who emerged from under his digital bridge last week to find that FutureAudiophile.com's comments are moderated for the specific reason to not allow people like him to rant without a babysitter, criticized me for writing the same story over and over. I actually allowed the comment because he's somewhat right in his critique. On the way back from Capital Audiofest this November outside of Washington D.C. I re-wrote an article about how the audiophile hobby is an "or hobby" versus an "and hobby" meaning that if an audiophile has a Mark Levinson amp and wants an Audio Research next, he or she often sells the Levinson to make the upgrade where a watch collector who wears a Rolex wouldn't dare sell it even if he fell in love with a Patek Philippe that he found on a great deal (tax free?) on vacation. The watch person would add to his collection thus that being an "and hobby". The updated story shows how Chi-Fi, modern headphones and other more accusable audiophile components are turning audio into more of an and-hobby. That story will run in the coming weeks. Another story that I've written in nearly every publication that I've owned and likely on Audioholics.com too is about build-it-and-they-will come for audiophiles. There is a long, unsuccessful legacy of audiophile dealers that decide as they become profitable that they will build the best, most impressive audiophile ego showroom to woo an entire city's worth of consumers to hopefully and loyally buy all of their gear at said location. And with about a 100 percent guarantee, every one of these retailers goes right out of business. I got to watch the legendary Christopher Hansen Ltd. first hand do just an agonizing feat in 1994 after getting a multi-million dollar investment from a Balinese price to make the former Rolls Royce showroom in Beverly Hills into the world's best, ultra-high-end salon. In less than five years, that store was closed and bankrupt despite architecture and design awards for the swanky digs that I worked at in Beverly Hills. Another outrageous audiophile emporium in Oslo, Norway tried the same thing and sold literally every A-list brand know to the world. They too went out of business in pretty short order as Europe wouldn't support such overhead and excess. SoundEx, the store that I learned about the hobby from in back in Philadelphia, moved out of their dump-house-stereo-store and built a new construction, 26-room audiophile playground staffed with the best, local sales people and showing every possible very high end system or component known to man at the time. They went out of business perhaps faster than any of the others. Simply put, it isn't hard to go out of business in the audiophile retail business. Overhead is expensive. Insurance is more pricey than you might imagine. Human resources for top people aren't just the cost of commissions, it is a real draw expense every month without any kind of break. Flooring millions of dollar's worth of audio gear also likely requires a line of credit from a bank which comes with both interest and principal costs. This is an expensive business to run even if the dollars seem high and the retail profit margins appear to be generous. Many more stores fail than success, especially the ones that go for the big time with overhead.
Smart retailers have changed the game today in positive and creative ways. Here are some of their stories and how they are getting both creative and successful.
New York City: Moving On Up (To a Deluxe Stereo Store in the Sky)
No one city in the world is more at the heart of the audiophile hobby than New York. Manhattan dealers like Sound by Singer, Stereo Exchange, Harvey's (long out of business but historically important to the hobby and business) and Innovative Audio have long been destination locations for audiophiles. While an audiophile's wife likely wouldn't be as interested in going to Columbus, Ohio to go audio shopping but a trip to stay at a 5-star luxury hotel in The Big Apple with dinner reservations at a Michelin Star Rated restaurant, perhaps some shopping for her and-or a spa treatment – makes for one hell of a weekend, right? God damn, we are sensitive aren't we…?
What's changed in recent years in Manhattan is that audiophile stores can afford to be on the ground floor in the city anymore. The rent is simply too expensive. They've had to move upstairs to second and higher floor locations. Audiophile salons need lots of room to display equipment nicely and on the ground floor, the rents simply aren't sustainable. Does this mean that you shouldn't plan to go to New York (or Brooklyn which is also increasingly good for both audio and record buying) to hear audio? No way! You absolutely should go however my strongest advice is to take a moment to book an appointment with said retailer so that they know that you are on your way. The days of just walking in and getting the royal treatment are sadly over. You need to New York City them some heads up but New York has some awesome audio experiences. And don't forget the last few remaining record stores as they are a fun add-on to your trip.
Los Angeles: Costco Isn't The Only Warehouse Store Selling AV in Town
My long-time friend Maier's store, The Audio Salon, in Santa Monica took years to come into its own but today it is one of the best ultra-high-end audio stores in the nation. The recent arrival of a light rail system into Santa Monica from Downtown Los Angeles has jacked already high commercial rents in Santa Monica even higher. The Audio Salon is located directly across the street from The Water Garden which is a gigantic office space with the highest per-square-foot price commercial real estate on this side of town being paid by clients like Amazon, Oracle and Microsoft. Maier is making it work audiophile style in a high rent district while catering to tech-savvy wealthy people on this side of town and good for him.
Others audiophile retailers in Los Angeles are going down a different path. Sunny Components is based east of the ever-increasingly hip Downtown Los Angeles and where there are hundreds of thousands of Asian, male audiophiles as well as Dim Sum to die for. His location isn't in a high foot traffic retail location with freeway signage. His store is more in a warehouse location but you can find the most expensive speakers and electronics known to man on display. Is the traffic bad going that direction after 1:00 PM? It sure is however, it is what it will take if you want to go hear some CH Precision when in Hollywood. CH might be priced for Beverly Hills but it isn't on display there. Sunny Components isn't the only retailer out there following the warehouse path. A hybrid retailer called Evolution Audio Video has a similar space north of Los Angeles off of the 101 Freeway about one third of the way to Santa Barbara. While not nearly has high end in terms of audio focus, Evolution does more mainstream audio, lots of home theater and custom installation. I used to send them business but not anymore which is a long story but their use of low-cost "retail space" is noteworthy. 
Miami: The Hybrid Dealer Gets Whacked By The Audio Mafia
One of the biggest audiophile stores in the history of the hobby is Sound Components based in Coral Gables, Florida. Their long-time owner was the Head of Sales at Wilson Audio in Utah before returning home to the Miami area to take over a legendary story. In the mid-2000s, Sound Component's lease was up and Mark took the company in a new direction with much smaller but also very high profile digs. They downsized from a huge, traditional showroom to a highly polished 2,500 hybrid custom showroom that had equal parts audiophile as well as home automation. The new space showed products like big Wilson Audio speakers, Wisdom Audio, Audio Research, Trinnov, Transparent Audio, Bowers & Wilkins 800 Series and more. When this happened, Wilson quickly terminated Sound Components without much notice and with little to no reason. Sound Components switched their high end focus to other brands and got their clients out of Wilson Audio products thus temporarily flooding the used marketplace with their speakers. It was an ugly outcome as Wilson didn't have a good solution for the cash-rich Miami marketplace but change is hard for audiophiles as well as audiophile manufacturers. In the end, everything worked out OK but change in the audiophile space shouldn't be this hard.
There are other dealers in places like Ohio, Charlotte and Delaware who have become a bit of a destination location for audiophiles and for good reason. In 2023, the idea that you need a big city, high overhead retail salon to get you to your audiophile needs as an advanced client is simply outdated. Overhead is a killer. Experience, a little breathing room and some inventory goes a long way. I would rather go see Mike and his team at Big Kid Toys in Greensboro as American Airlines has a hub not too far away and good planes fly there from all over the world. As always, we enthusiastically encourage our readers to support their local dealers as best that they can but especially as systems and components get more and more complicated – you sometimes have to look elsewhere. Everybody knows that this is reality and some dealers are finding unique ways to lure new, well-heeled clients in. We will keep up with those trends as we see them develop.