Reading Time:
7
minutes
When I first looked at the Bluesound Powernode Edge streaming amplifier and noticed its retail price of $649, I was taken back to my younger self in the late 1980s when I purchased a Yamaha stereo receiver for, you guessed it, around $650. With today's technological advancements, a streaming amplifier like this one is similar to a modern-day version of a stereo receiver, since it shares the same functionality, such as source selection, volume control, and amplification.However, a streaming amplifier adds the functionality of a music streamer. My first observation is that, at this price point, many streaming amplifiers lack support for a particular streaming service, or limited audio inputs and outputs. While Bluesound had to make minor concessions to attain the Edge's compact design goals, I find it to be feature-rich, with robust streaming support, a stable and intuitive streaming platform through its BluOS app, and support for multi-room audio with the use of BluOS streaming speakers, as well as sophisticated and powerful computer processing.
But additionally, what I find to be the standout feature of this product is the implementation of the NAD DirectDigital amplifier technology.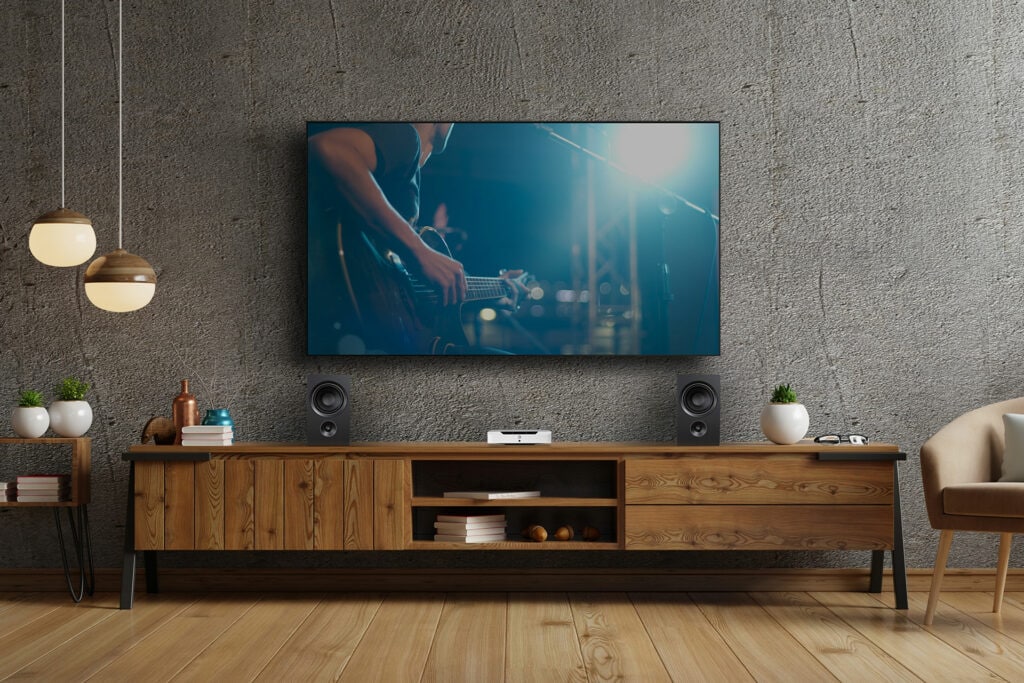 What Makes the Bluesound Powernode Edge So Special?
A DirectDigital 40-watt-per-channel stereo amplifier maintains the audio signal in the digital domain to the last possible stage, the speaker output stage. (More on this further along in the review.)
Audiophile quality components/parts/chips supporting up to 24-bit/192 kHz digital audio are found under the hood of the Bluesound Powernode Edge.
The BluOS platform and app make streaming fast and convenient from your favorite streaming services, including Spotify Connect, Tidal Connect, AirPlay 2, and Roon.
Bluetooth 5.0 aptX HD two-way connectivity allows wireless connectivity to your mobile phone and Bluetooth headphones.
The Bluesound Powernode Edge offers a subwoofer output with actual bass management.
Wireless multi-room capability with BluOS-powered speakers allows an easy path to whole-home audio.
HDMI eARC connectivity, combined with Dolby Digital decoding, provides easy integration of your television and audio system.
While the Bluesound Powernode Edge is mainly controlled by its app, a direct touch panel on the angled top panel can control essential functions.
The Powernode Edge offers Blue Voice, which supports Alexa, and Siri voice commands.
Bluesound includes a wall mount bracket for the Powernode Edge for a clean integration behind furniture or a flat panel display.
The Bluesound Powernode Edge is available in both matte black and white finishes.
Why Should You Care About the Bluesound Powernode Edge?
As previously mentioned, the Bluesound Powernode Edge is a just-add-speakers sound system that supports all relevant streaming services, benefits from the intuitive BluOS App, and employs DigitalDirect amplifier technology with the help of its sister company NAD. Let's clarify: what exactly is direct digital amplification? In a nutshell, a direct digital amplifier converts the digital Pulse Code Modulation (PCM) signal from a digital source, like a music streamer, to a Pulse Width Modulation (PWM) analog signal at the very last stage, the speaker output stage, thereby keeping the audio signal in the digital domain until the very end of the amplification stage, at the speaker terminals. The traditional digital-to-analog converter (DAC), preamplifier volume control, and analog power amplifier are eliminated as a byproduct of direct digital amplification design. Direct digital technology accomplishes all these components' tasks in one design and the digital domain.
Also called a Power DAC, a direct digital amplifier eliminates some digital filtering, multiple analog amplification stages, analog volume control, and preamplifier functionality. The design is more straightforward with no analog signal manipulation, with some lovely attributes: very silent background, low distortion, efficient power consumption, considerably less heat, compact, and lower manufacturing costs if you consider the elimination of heavy metal heat sinks and toroidal power supplies, while yielding superlative audio characteristics. Even though the Powernode Edge is rated at 40 watts per channel, with both channels driven, into 8 Ohms, more prominent full-range speakers can be paired without reluctance.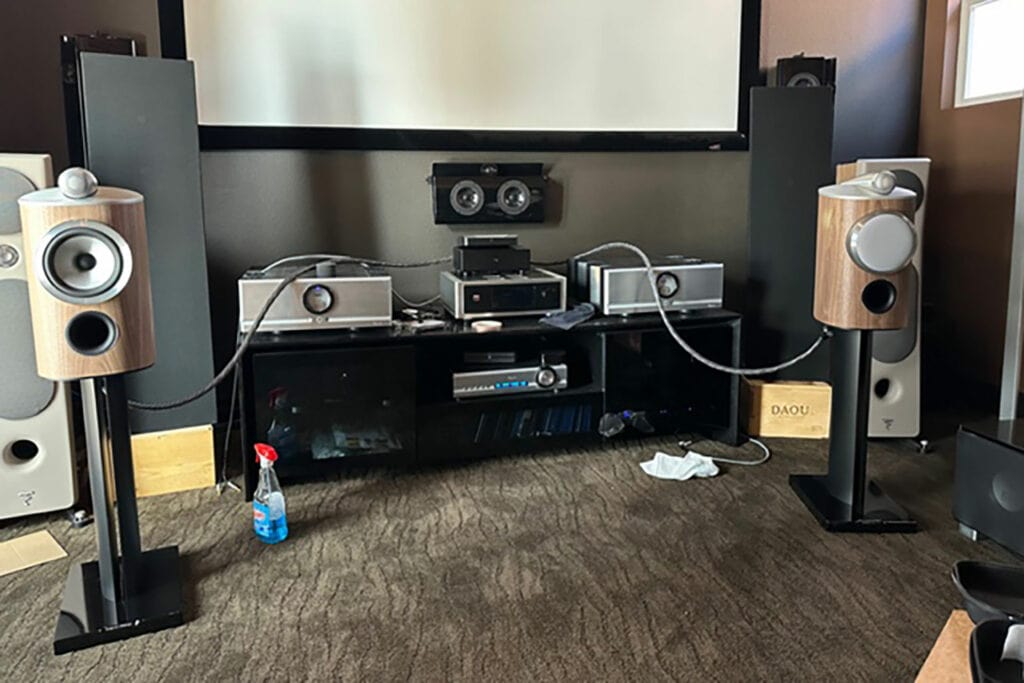 Some Things You Might Not Like About the Bluesound Powernode Edge…
Direct digital amplifier technology is inherently suited for digital sources. Analog sources like a turntable, will need conversion to a digital signal. The PowerNode Edge can perform analog–to–digital signal conversion (ADC) to support analog sources. Hardcore vinyl enthusiasts may have an issue with that reality.
The Powernode Edge is a discreet component design, intended not so much to be seen but instead heard. If you are looking for a showcase component, look elsewhere as that will be challenging at this price point.
The analog input utilizes a 3.5-millimeter mini plug that would most likely necessitate an RCA to 3.5-millimeter cable, which is workable but not ideal.
The Powernode Edge does not provide a digital out to use as just a streamer. There is no opportunity to use only the streaming portion of the Powernode Edge and bypass its built-in amplifier.
Listening to the Bluesound Powernode Edge…
With the Powernode Edge and my Tidal HiFi Plus streaming service, I connected to a pair of Paradigm Premier 100B bookshelf monitors, which retail for $798 per pair. Starting with the song "Oh My God" from Adele's latest album (buy at Amazon), the imaging was spot on, with fantastic depth, quickly painting an image of Adele's vocals close to center, with instrumentation surrounding her.
Higher frequencies did exceptionally well and displayed a crip and apparent nature without smearing or harshness. The entire frequency range seemed fluid, coherent, and pleasantly detailed. The bass increased as I pushed the system harder, but the little 100Bs could only muster so much. The Powernode Edge begged for something full range in terms of speakers, so I moved on to a pair of much more expensive Focal Kanta No. 2s. Here, the bass was controlled yet full and forceful, almost unbelievable when looking at the diminutive dimensions of the Powernode Edge. Coupled with the clean and clear yet supple higher frequencies, the overall presentation of the Kantas was astonishing.
I went through the gamut of recording artists and songs, all with exceptional results, presenting a musical presentation that was pleasing without fatigue during long listening sessions. I struggled to comprehend the system's power, especially during bass-heavy passages. One standout track was The Beatles "Come Together" from Abbey Road (buy at Amazon). Paul McCartney's introductory bassline riff took on a lively and believable soundstage and character, while Lennon's voice demonstrated detail with coherent inflection with a very smooth frequency response.
I moved on to a torture test of bass tracks, starting with Elle King's "Ex's and Oh's" (buy at Amazon), a fun thumper of a song that did not disappoint. The Powernode Edge kept up and pushed hard while maintaining the intelligibility of the vocals.
Just before my time with the Powernode Edge ended, I received a pair of somewhat harder-to-drive B&W 805 D4s (review pending), which have a sensitivity rating of 88 dB compared to Kantas' 91 dB. I performed a very quick revisit of the various tracks mentioned above. To my surprise, the Powernode Edge pushed through the B&W 805 D4s without a hitch and with the same observations I experienced with the Kanta No. 2s: a flat, fluid frequency response – detailed yet smooth. Could both the Kantas and the B&Ws benefit from more power? I suspect so. But still, the Bluesound Powernode Edge powering the Kanta No. 2s or B&W 805 D4s worked beyond what one would believe conceivable.
Will the Bluesound Powernode Edge Hold Its Value?
At $649, the Powernode Edge does not have far to fall yet has so much to offer. Realistically, you are likely to keep this component for a long time. Even if you upgrade along the way, the Edge can be repurposed to another room or shared with a child to help develop their love for music. With that in mind, average depreciation should be sustained until a significant shift in music streaming occurs.
What Is the Competition for the Powernode Edge?
The SVS Prime Wireless Pro SoundBase ($699.99 buy at Amazon) offers a Hybrid Class D amplifier, but note the published power ratings. While SVS indicates 150 watts per channel, that power is at 4 Ohms, not the more typical 8 Ohms. Also, MQA rendering is not supported on the SVS, which isn't too much of an issue as it is a bit of a dead format. The SoundBase does have an HDMI port, similar to the Powernode Edge. Analog RCA, along with optical and coaxial digital inputs, are also available. Streaming services are limited, but Spotify Connect is supported (as it is with the Powernode Edge). The SVS SoundBase may fit the bill based on how you stream music and your needs.
The Technics SA-C600 ($1,099.99) Premium Class Network CD player is intriguing. It includes a CD player, moving magnet phono input for turntables, and implements direct digital amplifier technology, making this unit especially relevant. The power output is similar to the PowerNode Edge at 40 watts per channel into 8 Ohms. Various popular streaming services are supported as well, and like the Edge, MQA rendering is available. One feature missing from the SA-C600 is an HDMI connection, which could be worked around using the SA-C600's optical or coaxial digital input terminal. It may be worth the $450.95 premium over the PowerNode Edge if a CD Player and a phono stage are essential to you.
Another option could be the Sonos Amp at $699 MSRP (buy at Amazon). It is rated at 125 watts per channel into 8 Ohms, but it does not clarify whether that is a dynamic or constant FTC rating. The streaming platform is mature and stable and supports primary streaming services. HDMI, RCA analog, and digital inputs are provided for basic connectivity. MQA is not supported.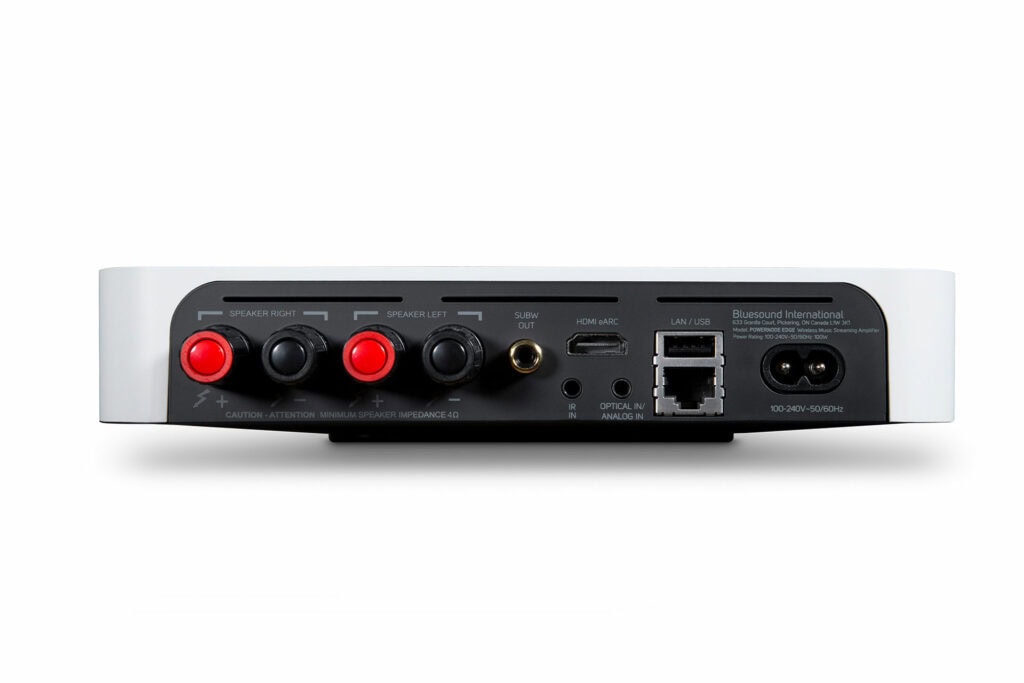 Final Thoughts on the Bluesound Powernode Edge…
Bluesound has done right by consumers in making $649 go far by offering an affordable yet well-rounded product with performance advantages you can hear. No longer is there a viable excuse for music lovers to deny themselves a modern streaming audio system. This well-designed and thought-out component will provide years of enjoyment for many people. One final thought to consider: in the recent past, a more balanced approach to system design was prudent. Not anymore. If your budget allows, I can imagine pairing a relatively high-end speaker like the Kanta No. 2 or even the more challenging to drive B&W 805 D4 with the Powernode Edge. On the other hand, if you moved to a less-expensive speaker to budget for a higher-powered amplifier, the results would not be better, but more likely significantly worse. The strategy here would be to obtain the speakers that you want today and let the Bluesound Powernode Edge hold you over until your budget allows a higher-powered amplifier: the Powernode Edge is that good.