Reading Time:
8
minutes
When Paul McGowan and Stan Warren founded PS Audio in 1973, their first product was a standalone phono preamp. After several different design iterations, the PS Audio Phono Preamplifier was introduced in 1975. Now, some 48 years later, PS Audio —a company perhaps better known for its DACs and amplifiers and power products—is still in the phono preamp business with the Stellar Phono Preamplifier. Manufactured with a fully discrete Field Effect Transistor (FET) architecture, the Stellar Phono Preamp has an all-discrete, Class A analog design, which helps provide considerable headroom and dynamics coupled with increased transparency and very low reported noise.
Its design was headed by former PS Audio engineer Darren Myers (who, incidentally, recently left PS Audio to join Parasound's design team). Constructed with no ICs in the signal path, and DC coupled from input to output, the PS Audio Stellar Phono Preamp is well equipped to provide gain and RIAA equalization for almost any turntable and cartridge one might use.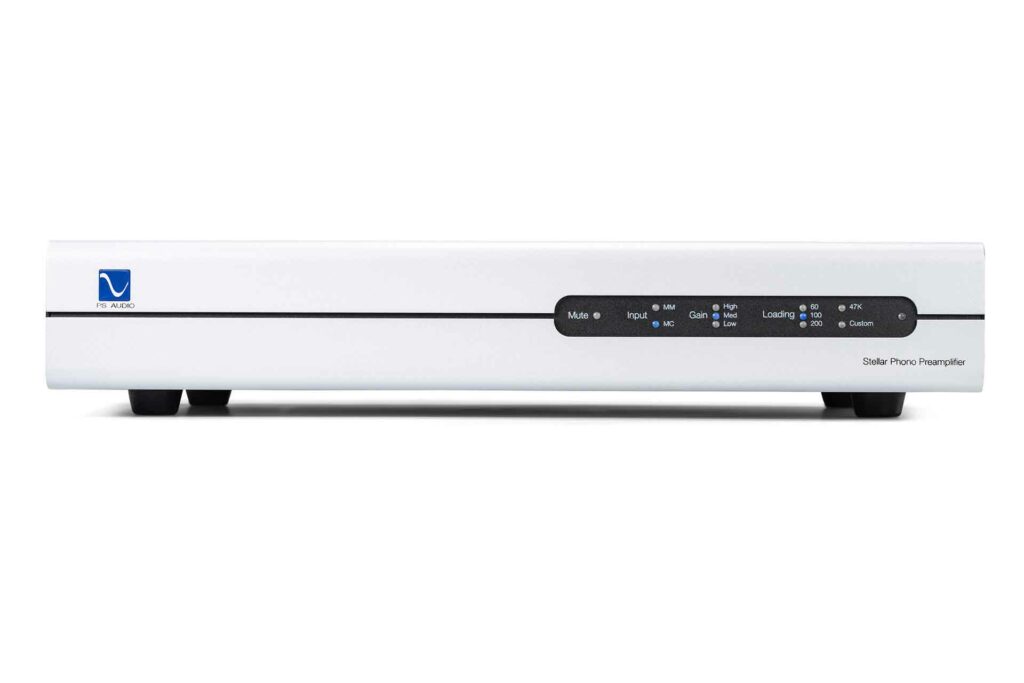 What Makes the PS Audio Stellar Phono Preamplifier Special?
Connection and setup are quite simple. Plug in the phono cable from the turntable into the appropriate RCA input, connect the ground, connect an output cable to either a preamp or integrated amp, set the cartridge load and gain, connect the AC power cord, and you are in business. From the time I unboxed the Stellar Phono Stage until I was sitting in my listening chair for the fun part, I believe it only took me about 10 minutes.
Although inputs are, of course, single-ended, there are both single-ended RCA and balanced XLR connections for the output stage.
The Stellar Phono Stage can accommodate both Moving Magnet (MM) and Moving Coil (MC) cartridges for increased user flexibility.
For moving magnet setups, the input cartridge load is 47K Ohms only. For MM, very likely the more popular cartridge type these days, input loading is 60, 100, 200, or 47K Ohms. I found 200 Ohms best suited my listening preferences. There are also two potentiometers on the rear of the unit enabling a customizable setting of 1 to 1000 Ohms per channel (left and right). With all these variable settings, the Stellar Phono Preamp is well equipped to accommodate almost any cartridge or any load one might require.
Gain is where the Stellar Phono Preamp really earns its stellar moniker. For MM, the gain settings are 44dB, 50dB, and 56dB. When using a MC cartridge, you can select between 60dB, 66dB, and 72dB of gain. That last one, 72dB, is quite important. If, like me, you are using a very low-output MC cartridge (my Ortofon MC Verismo outputs 0.2mV), the gain of most phono preamps might not give you much in the way of amplitude. Forget singing along to your favorite tunes, as you will hardly be able to hear them at those low levels. Having 72dB of gain means you should easily have plenty of output at your disposal and will likely not need to use a step-up transformer. I found this to be a very welcomed feature and one not usually found on devices at this price point.
An included remote handles all the settings and options of Stellar Phono Preamplifier.With the remote, you can turn the unit on or off, change the cartridge load (the remote's custom button activates the variable load potentiometers on the rear of the unit), adjust the gain settings, and mute the output. Making these selections illuminates a series of bright blue LED indicator lights on the front of the unit. When output is muted, a bright red LED will illuminate.
Why Should You Care About the PS Audio Stellar Phono Preamp?
When it comes to an examination of price versus features and performance, the Stellar Phono Preamp will not leave the listener wanting for much more. Having the ability to accommodate both MM and MC cartridges is not especially new in phono preamplifiers, but the variety of load and gain options for a unit at this price may well be. Add to that its design, including itsfully discrete FET, Class A analog topologies, which serve to provide low noise and high overload – both enabling wide dynamics in playback. From front to back, the PS Audio Stellar Phono Preamplifier is a well-designed, well-thought-out audiophile component with excellent sonics at a very reasonable price.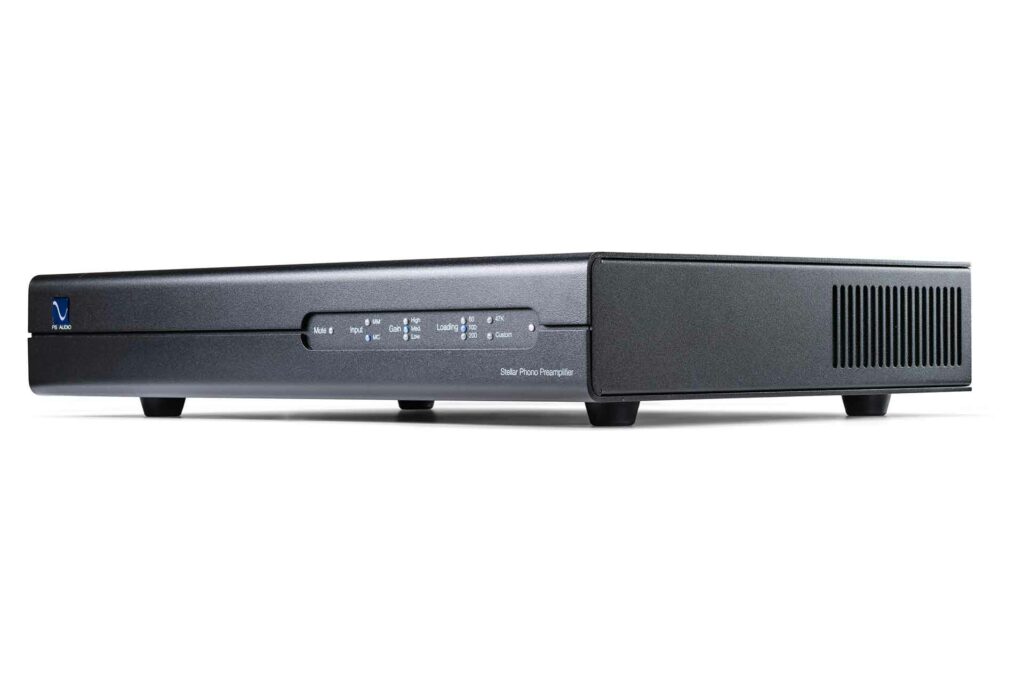 Some Things You May Not Like About the PS Audio Stellar Phono Preamplifier…
There are no front-mounted knobs or switches to control or adjust the various settings.All user-adjustable controls are made from the remote (except the custom load settings, which require adjustments via both the remote and the cabinet back). Most listeners will not be making constant setting changes, but if you are standing in front of your equipment rack and the remote is across the room, and you want to change something, there is no way to do so on the unit itself. So don't lose that remote.
The bright blue LED lights on the front of the device make reading the settings very difficult. I used a flashlight to initially help me confirm my cartridge load and gain settings. That said, once getting accustomed to the indicator light's positions, you can pretty much remember the settings so it is not an insurmountable problem.
The Stellar Phono Preamp, like most products of its kind, is very sensitive to poor grounding, so it is imperative to have a quality phono cable with adequate shielding and a grounding lug connected to both the turntable and the chassis ground on the rear of the unit. Of course, poor grounds are common in the phono world and buzzes and ground loops may occur in the absence of proper grounding. Sometimes, eliminating these undesired consequences may be accomplished by rerouting wires or by use of a better phono cable. Having chased ground loops and their annoying buzzing sound several times myself, I know how frustrating they are.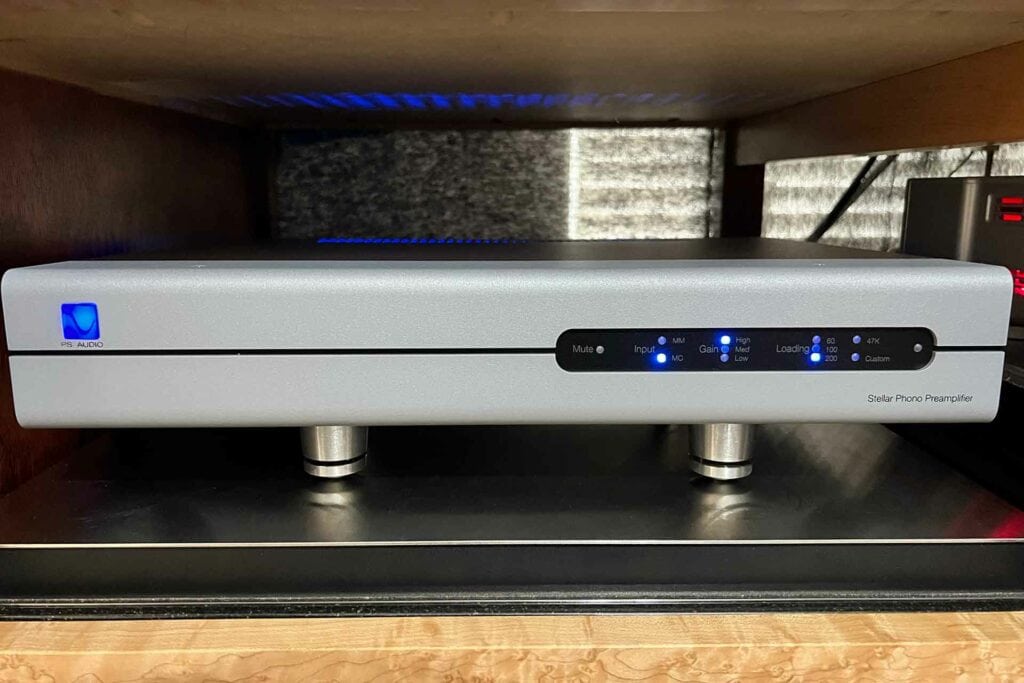 Listening to the PS Audio Stellar Phono Preamp…
Designer Darren Myers firmly believes measurements do not always correlate with what we hear. Abandoning a more traditional circuit design for a fully discrete FET design that does not rely on excessive global feedback provides a warmer, richer, more transparent sound. Tubes are universally considered to have a warm sound. My current phono preamp is a hybrid tube/integrated circuit design, and I found the Stellar Phono Preamplifier to have an equally beguiling sonic presentation. The fact that a solid-state device was on par with a tube component in warmth, and additionally in an open, detailed sound on an LP, and at the price of the Stellar, is a remarkable achievement. If one were to ask an assortment of engineers what they liked and disliked about the PS Audio Stellar Phono Preamp, an obvious array of praise and criticisms will almost certainly result. What is most important to the average listener is how something sounds. And I found the Stellar made listening to LPs very enjoyable.
Listening to the Mobile Fidelity Ultradisc One Step pressing of Michael Jackson's Thriller LP (buy at Amazon), the song "Billie Jean" never sounded better. Of course, even the 1982 original mastered by Bernie Grundman sounds exceptional. With One Step, Mobile Fidelity used the original half-inch 30ips master tape, converted to DSD256, and then applied the remainder of the One Step process. The result is a much cleaner presentation and noticeably less forward. Sibilance is certainly less pronounced. The drum strikes and bass guitar at the start of the track simply explode. I have the original version, and those opening drum strikes were not as concussive and the bass doesn't have the same "pop." All in all, the combination of the Ultradisc process and the Stellar Phono Preamp made this a very enjoyable track and album.
I have several versions, both LP and CD, of The Who's Quadrophenia (buy at Amazon) but the 180G remastered version from 2011 is probably my favorite. Listening to the track "Dr. Jimmy," Keith Moon sets the pace, as he usually does, with his seemingly all-over-the-place drumming. I can almost see Pete Townshend's arm windmilling around the guitar, and on this version, the Stellar enabled me to really hear the midrange in a way I had not previously. Daltrey's voice was clear and even his screams were understandable. There was a visceral power to the recording,, with powerful dynamics throughout. This 2011 remaster really corrected a lot of the drawbacks found in the original 1973 release, and having played this LP on my system many times, doing so through the PS Audio Stellar Phono Preamp gave me a new appreciation for what this updated version delivers.
Does the PS Audio Stellar Phono Preamp Have Any Resale Value?
PS Audio typically has a really excellent trade-in policy, which promotes brand loyalty and gives the user a pretty good deal. Could a unit be sold on the open market for a price equivalent to the trade in value, though? Hard to say, but it is likely. It is worth noting that when I looked, I did not find any PS Audio phono preamps on the used market. If you plan to remain in the PS Audio family, the trade in policy is very fair. If your next phono preamp choice is with a different manufacturer, that may well be a different story.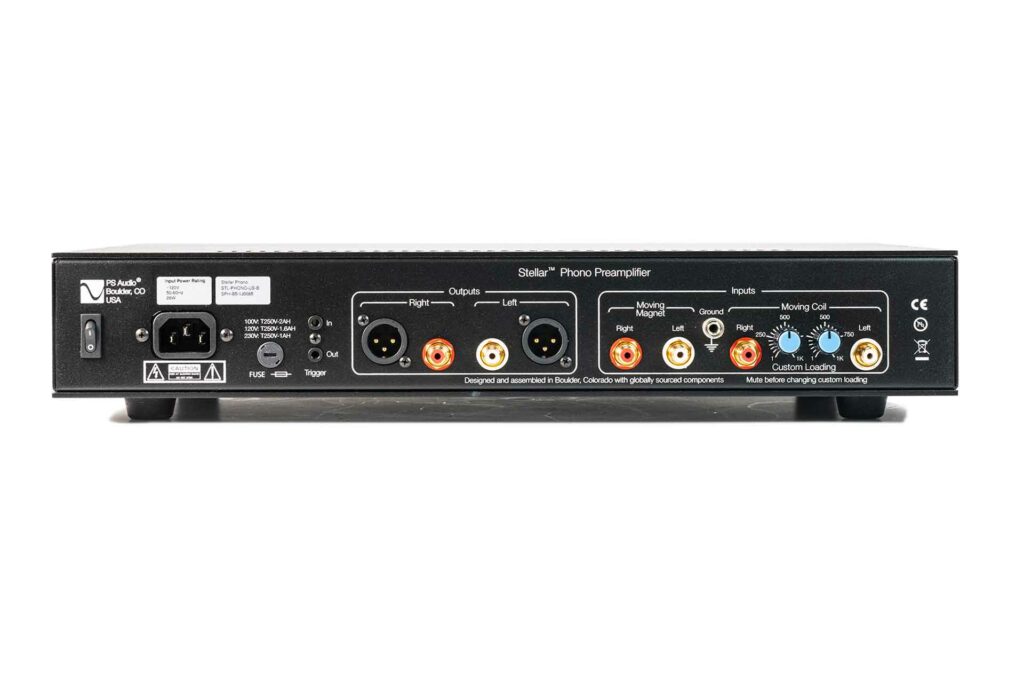 Who Is the Competition for the PS Audio Stellar Phono Preamplifier?
Without question, at the top of this list is the Parasound JC3+. I once owned a JC3+ and it was a fantastic product. Designed by John Curl, someone who has designed quite a few legendary audio products, the JC3+ is similarly priced at $3,199. Like the Stellar Phono Preamp, it has only one load setting for MM cartridges. MC load is from 50 to 550 Ohms. The JC3+ gain setting tops out at 60dB. This means if you ever use a low-voltage output cartridge, like say, 0.2mV, you will possibly need a step up transformer. which will raise the total retail price by about $1,500 to $2,000. With 72 dB of gain, the PS Audio Stellar Phono Preamplifier will hardly ever be affected by a low output MC cartridge.
At an admittedly more expensive price, the $4,500 Pass Labs XP17 is a very popular phono preamp. Pass Labs is somewhat unique in that they do not differentiate between MM and MC cartridges in setting load and gain. There are two sets of DIP switches on the back of the unit to choose the various settings, which means there is no remote. The XP17 can accommodate MM, MC, and even Moving Iron cartridges with a variety of impedance selections and gain settings up to 76dB.
Final Thoughts on the PS Audio Stellar Phono Preamplifier…
I found the PS Audio Stellar Phono Preamplifier to be, well, stellar. I highly enjoyed the sonic presentation it provided, particularly in the midrange. That it possesses these attributes for a very affordable price makes justifying its purchase that much easier. There are many excellent phono preamps available far in excess of $3,000. I found the Stellar certainly outperformed what might be expected of a phono preamplifier at its price point. If you're looking for a phono preamp in this price class with these features and a rich, warm, and dynamic sound, I do not see how anyone could go wrong in giving the PS Audio Stellar Phono Preamplifier a serious listen.