Reading Time:
8
minutes
Apple didn't pay $3,200,000,000 to Dr. Dre and Jimmy Iovine for nothing. The headphone company they carefully pried from the hands of Monster Cable founder, Noel Lee, is a key part of today's overall tech-lifestyle aesthetic. Be it at work, walking around town, working out at the gym, or just chilling at home, literally everybody has a place for a good pair of headphones in their life, and more often than not, purchasing choices are based on status rather than performance. 
The Beats Studio 3 headphones (buy at Amazon) are at the top of the food chain for Apple's headphone brand. They are highly stylized headphones that come in a number of color options. The underside of my dark gray review samples was a stylish tan color of faux leather. At this price point, the Beats Studio 3 headphones have steep competition, but Apple has a few tricks up its sleeve with developments over the past few years that have made Beats into a very different company than what Noel and his son started with.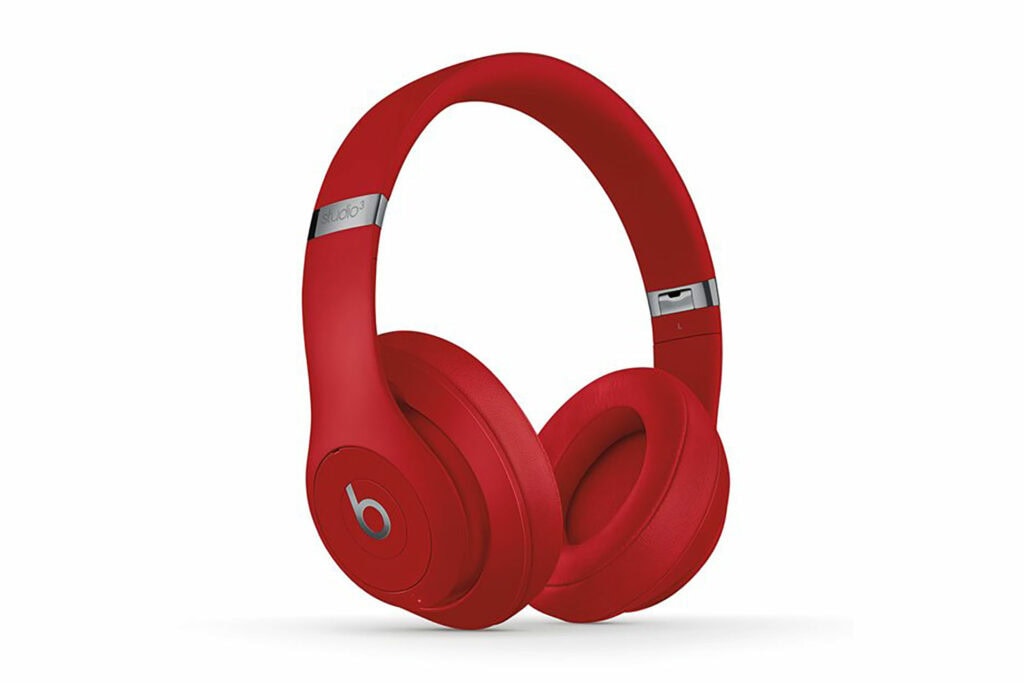 What Makes the Beats Studio 3 Bluetooth Headphones Special?
Apple uses their M1 chip in the Beats Studio 3 headphones, which is a lot of processing power for a pair of headphones, but better too much horsepower than too little, right?
The look of the Beats Studio 3 headphones is very distinctive. That look is urban, stylish, and unquestionably branded Beats thanks to a big, gold, lower-case "b" on the ear cups
Speaking of ear cups, they contain some very intuitive and easy-to-use buttons. Within minutes, you can be changing tracks, adjusting volume, and more – all without looking.
The headphones were a total cake-walk to get connected to Bluetooth on my Apple MacBook Pro (also with an Apple M1 chip). Simply press down the power button and open the Bluetooth Settings window in the Apple OS and the headphones will appear. Click the "connect" button and you'll be listening in no time.
The colors that the Beats Studio 3 headphones come in include: Matte Black, Red and Black, Red, White, a somewhat dark Blue, Black and Tan (this is what I have), and gray.
Much like an Apple product, the Apple store will deliver the Beats Studio 3 headphones to you in about two hours (depending on where you live). I've done this with laptops and it is game-changing e-commerce. And now you can get the same timely service for headphones, which is very cool.
The Beats Studio 3 headphones are 9.17 ounces, which feels very, very light to me and I like that.
You can use Beats Studio 3 headphones with Android if you want. I am not sure why you would want that, given that the headphones support AAC as a Blutooth codec, but not the aptX or LDAC codecs more often used on Android devices. But it is an option, if you're OK relying on the low-quality SBC codec for your connection.
While a full charge will only net you 22 hours of playback, 10 minutes of quick-charge time will get you three hours of usage, so you can re-power your world very quickly. Older headphones in the category couldn't do that. Today, this feature is often found on much more expensive headphones.
You can share your audio with people using other Beats products or AirPods (other Apple headphones), which is pretty unique in the Bluetooth headphone category.
The Beats Studio 3 headphones have something called Spatial Audio, which is a sort of surround sound for your headphones. Some might like this feature, but I found it a little gimmicky.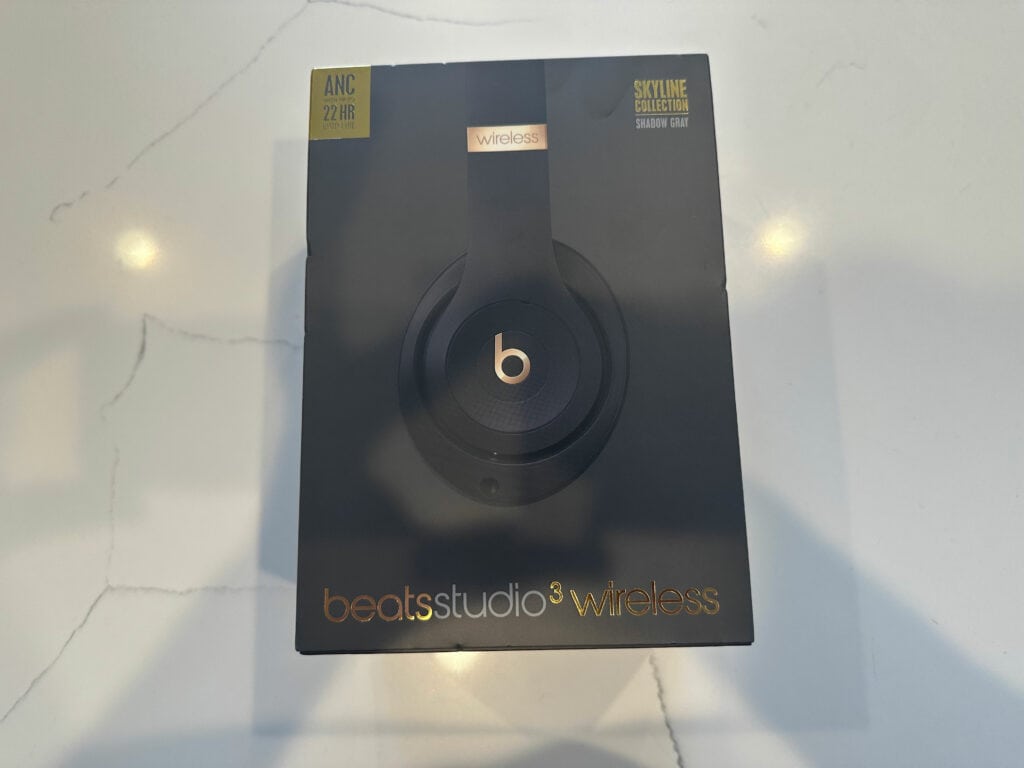 Why Should You Care About the Beats Studio 3 Bluetooth Headphones?
For many people, headphones are as much about fashion as it is sound. That likely isn't going to be the case for most FutureAudiophile.com readers, as sound is going to be biggest reason why we plunk down the old Platinum Card for a new bit of headphone technology.

I will never forget walking through a CEDIA show somewhere in the Midwest with my then editor and now YouTube.com audio influencer, Andrew Robinson, and we saw an active display for the first-generation Beats headphones. When I tell you that they were singularly the worst headphones I've ever heard – bar none (ever) – I am not being hyperbolic. They sounded and looked garish. They had so much bloated bass that Andrew pretty much ripped them off his head and dropped them on the floor. A lot has changed since then, and Beats has smartly found engineers from places like Harman to come and work on their headphones. They aren't garbage today. They don't sound brutally bad, as they tend to follow the Harman Curve, which is pretty much the reference standards for headphones these days.
A lot has changed for the positive with Beats now that they are owned by Apple. They are still style-before-performance, but their performance is greatly improved from earlier derivations. Try not to bring old stereotypes into your modern judgement on a product like the Beats Studio 3 headphones.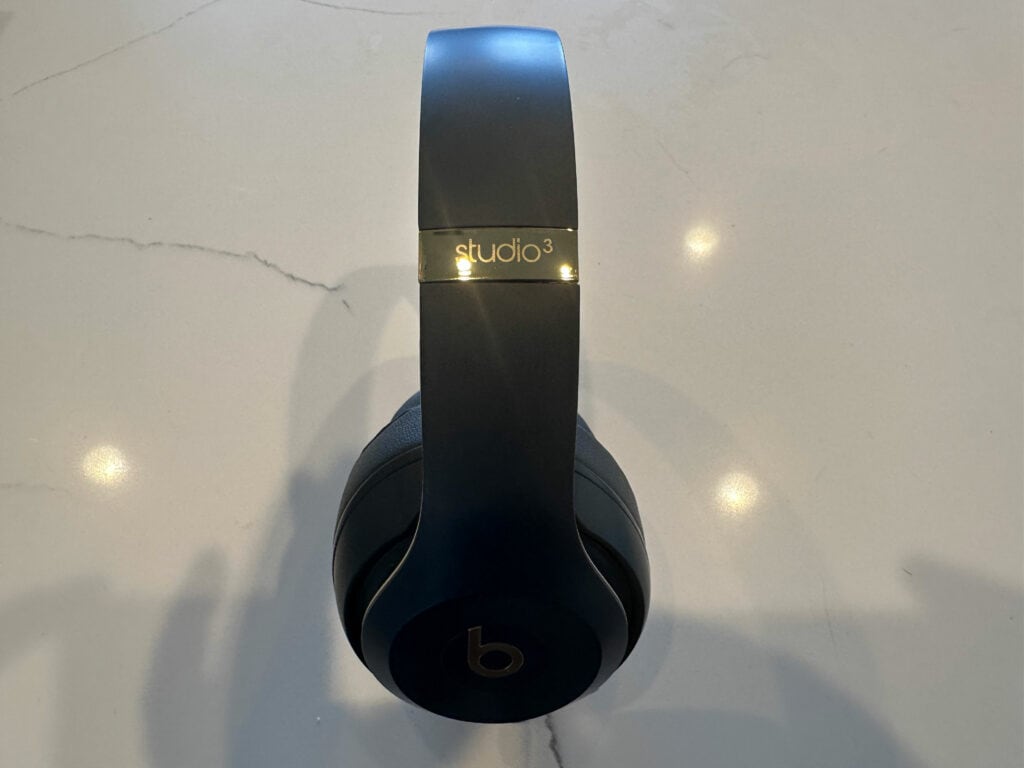 Some Things That You Might Not Like About the Beats Studio 3 Headphones
The battery life on the Beats Studio 3 headphones is reportedly 22 hours. While that is a long time, it isn't nearly as long as others in the price range.
The fit of the headphones is very tight on my somewhat large head. Within an hour, I wanted them off. Note: a tighter fit makes for better bass performance, but there isn't any bass performance if you can't stand to wear the headphones.
How can there not be a USB-C connector to charge the Beats Studio 3? Apple products work on this connection and you likely have one in your bag already, but nope – the Beats Studio 3 headphones have a micro USB connection, creating the need for another cable for your headphones.
Despite the tight fit, the bass on the Beats Studio 3 headphones isn't very deep or powerful. When compared to other headphones in the $400 range such as Bose, Sony, and specifically Technics and Sennheiser, the Beats sound a little flat.
I didn't think the noise canceling was as good as industry leaders Bose and Sony, or other newer players like Bowers & Wilkins. Even Apple's AirPods Max had better ANC (noise cancelation).
Listening To the Beats Studio 3 Headphones…
On "Tall Cool One" from Robert Plant's 1988 gem, Now and Zen (buy at Amazon), I liked the space around the music, as it came across lively and airy but without any high-frequency sizzle or brightness. The alternate vocalist that is mixed in with all of the Zeppelin and other samples later in the track had good heft to his voice in the lower frequencies, but the overall bass was weak. There is simply better bass to be had from any number of other headphones at this price. 
The ska-tastic sound of early No Doubt on "Spiderwebs" from the Tragic Kingdom album (buy at Amazon) was very muddy sounding overall. The bass suffered the same lack of depth as I heard with Robert Plant earlier, but the entire sound of "Spiderwebs" lacked any vibrancy. I did a direct comparison to the Sennheiser Momentum 4 headphones with the same track at the same rough volume (as close as I could get without an SPL meter for headphones) and take it from me: you want the Sennheisers. They sound more open and resolute. The music has more life as well as more bass. 
If I use one more 1990s song, I am either going to have to go back to college or my skin might turn into a plaid flannel pattern. With that in mind, I cued up the new Ozzy record called Patient Number 9 and the title track (buy at Amazon), a collaboration with the recently deceased Jeff Beck. These elder statesmen of rock have all of the credibility that you could dream of, and the track on the Beats Studio 3 Headphones sounds better as a more modern recording. The bass sounded deeper but the overall tonal balance, as with the No Doubt example, sounded muddy. The audiophile cliché is that it "sounds like a blanket over the speakers." In this case, you get that effect on these Beats Studio 3 headphones, regardless of volume or ANC options that you select. I used to bump into The Prince of Darkness at the grocery store in Beverly Hills when we both lived over on that side of town. I wouldn't play this track for him on these headphones, as it should simply sound better. 
Do the Beats Studio 3 Headphones Have Any Resale Value?
Headphones are tricky for this question in our review format, because with enough wear, even expensive headphones aren't that tempting for a second owner. It is also a little weird to share headphones, but it does happen.

Apple products have fantastic, beyond-industry-standard resale values, but that's for computers. The Beats Studio 3s are priced aggressively, and my bet is that if you like them enough to buy them that you will wear them out before you sell them.
Who is the Competition for the Beats Studio 3 Headphones?
Who isn't the competition? Around the $400 price point, you've got heavy hitters all over the place. For years, Sony and Bose were known for their better-that-all-others multi-mic active noise cancelation. Headphones like the Bose 700 (buy at Amazon) or the Sony WH-1000XM5 (buy at Amazon) are both stylish options with better performance. For those really motivated by the look of the headphones, I would recommend the Bowers & Wilkins Px7 S2 (buy at Amazon),as this is what my wife replaced her pink (she loved things that are pink) Beats that were, well, literally beat. 
I am reviewing the PSB MAU8 MX2 headphones at about the same price, and they trash the Beats sonically, but couldn't possibly hope to compete in the industrial design department. These Canadian headphones come in some designer colors like espresso, but they look very utilitarian, especially when compared to the Beats.
If you can invest a bit more money, I would look into options like the Bowers & Wilkins Px8s (buy at Amazon), which measure a lot better than the Px7 S2s. They are very fashion-forward in terms of their industrial design, and they are way more comfortable than the Beats, as they don't have that vice-tight fit on my head. 

Back in the $400 price range, the Sennheiser Momentum 4 headphones (buy at Amazon) are one of my top picks for Bluetooth headphones. They have a very open, balanced, and accurate sound. They aren't sexy like the Bowers & Wilkins or hip-hop approved like the Beats, but they sound better and for many of us, that's what really counts.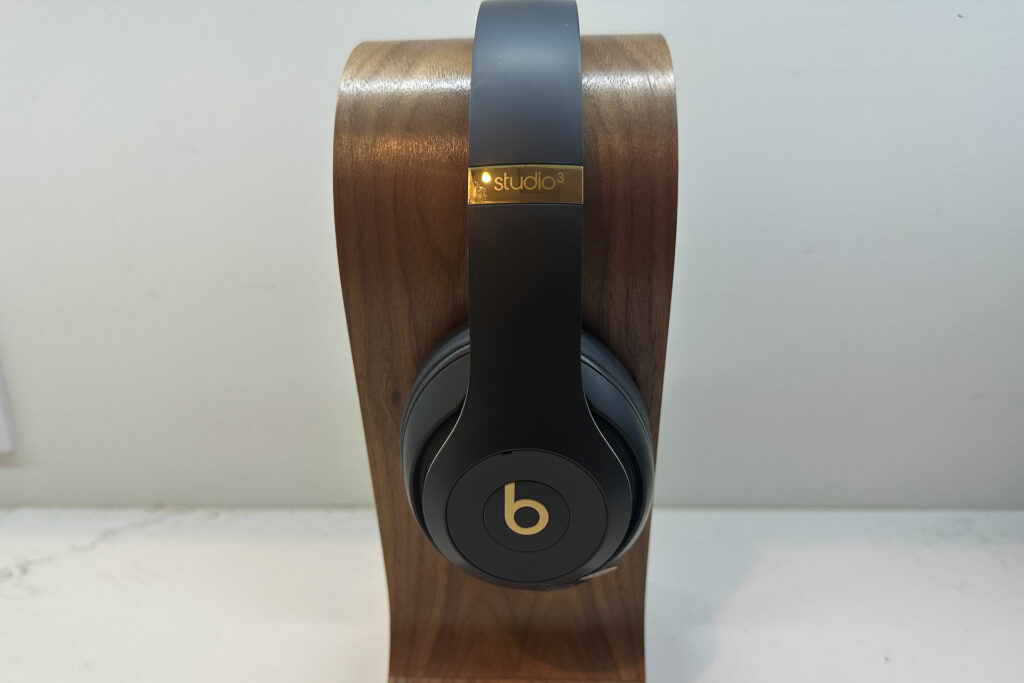 Final Thoughts on the Beats Studio 3 Headphones
With Apple spending billions to acquire Beats and then bringing in real engineers to make respectable headphones bearing the brand's logo, I had to take a listen to their top model, which admittedly is getting long and the tooth and due for a replacement soon. Sadly, I just wasn't feeling it. They are muddy and veiled sounding. They aren't comfortable. They don't have great battery life. They connect without a USB-C cable. They just aren't it. Perhaps the impending Beats Studio 4 will be better, whenever they hit the market – likely sometime in 2023.
The crazy part about the whole evaluation of the Beats Studio 3 headphones is that they likely sell more pairs of these headphones than all of the other competitors combined. Does that make them sound better? No, that makes them an attach sale as part of the Apple cult that I am a proud member of. I wanted to like these headphones more. I really did. Maybe, the next version out will focus more on sonic performance than looking like a pair of vintage sneakers, but then again, the latter is a large part of their appeal.